What Obama's Visit to His 50th State Says About His Post-Partisan Vision
With his visit to South Dakota on Friday, the president will have traveled to every U.S. state during his presidency.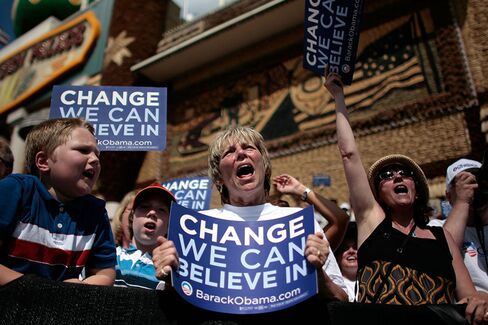 With the arrival Friday of Air Force One, South Dakota becomes the very last state in the union to get a visit from President Barack Obama.
Tom Daschle, the state's former Democratic U.S. senator, and John Thune, the Republican who ousted Daschle a decade back as the GOP was cementing its dominance in the state, both give the same answer about South Dakota's place in the pecking order: "Best for last." This has become the unofficial, if vaguely passive-aggressive, slogan for the trip, a badge of honor pasted across novelty T-shirts now for sale around the state.
Tied to a commencement speech Obama is delivering at a nationally-recognized community college in Watertown that teaches job-relevant technical skills, his visit to the Rushmore State means the president will make good, with a year and a half to spare, on a commitment to meet constituents in each of the 50 states during his time in office. That's something predecessor George W. Bush, who never did get to Vermont while on the job, didn't manage.
The White House is making the most of the gimmicky feat, celebrating with a series of pictures of Obama on visits to the other 49 states.
At the same time, the visit serves as a reminder of the gulf between Obama's famous vision of no red states and blue states, and the reality in which he now operates as a lame duck in his seventh year in office.
Obama's celebrated call to bridge the partisan divide, first made at the 2004 Democratic National Convention, helped launch a meteoric political rise that reached one of its high points the last time he visited South Dakota—as a presidential candidate on a day in June 2008 when he had the Democratic nomination all but locked up. It was a visit that, because of its sheer electoral impracticality, underscored the audacity of Obama's political ambition and, yes, hope.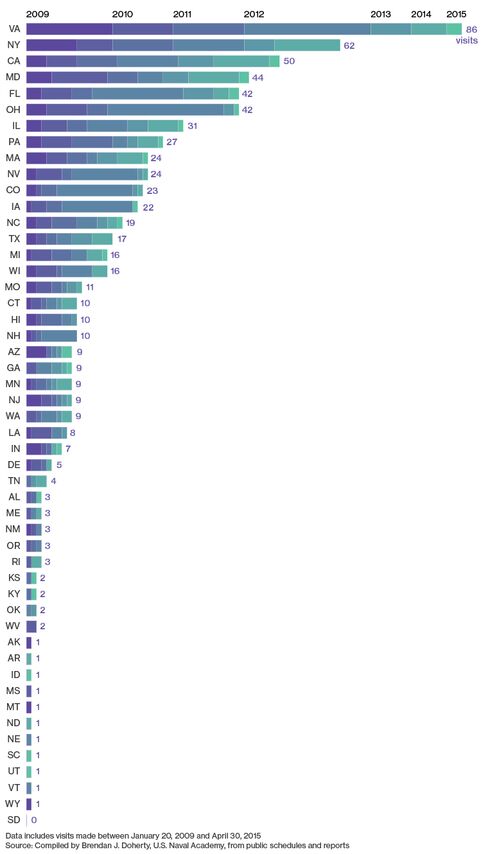 The 46th smallest state by population, South Dakota hasn't voted for a Democrat for president since 1964. Daschle, a Democrat who represented the state in Congress for 26 years lost his Senate seat in 2004, the same year Obama won his. Since then, political developments in the state have taken a 180-degree turn that seems the opposite of the post-partisan vision Obama evoked in his speech to the Democratic National Convention.
Since Obama became president in 2009, South Dakota has moved even deeper red. The president's policies arguably have played a role: Stephanie Herseth Sandlin, the state's former Democratic congresswoman, lost her bid for re-election in 2010, weakened by the unpopularity of the Affordable Care Act, or Obamacare, even though she opposed it.
Once represented in the Senate by Democratic powerhouses such as Daschle and George McGovern, the state now has an all-Republican congressional delegation and Republicans in each of its statewide constitutional offices. Following last year's midterm elections, the state Democratic Party is in its worst position since 1962. Republicans took all of 13 statewide political offices and won 58 of 60 competitive state House races. Republican Governor Dennis Daugaard beat his Democratic opponent by 45 percentage points.
Those are the results of long-term trends, observed David Wiltse, an assistant professor of political science at South Dakota State University.
"If you look at North Dakota and South Dakota both, they had these longstanding Democratic incumbents and were able to through the sheer power of incumbency hold on as the state transitioned away from Democrats over the last two to three decades," he said. "Once you have a state where Republicans outnumber Democrats by a 2-to-1 margin or so, you're just not going to be able to win those seats reliably."
Does Obama bear some responsibility for his party's plight in South Dakota? "Of course not," said Wiltse, who chalked up the shift to a re-sorting of political party identification and rural and religious constituencies gravitating to the Republican Party.
Daschle says Obama's tenure has brought benefits to South Dakota—everything from support for Native Americans and agriculture to expanded health care access and investments in water projects and infrastructure. "He's been pushing trade, which I think is very good for South Dakota," Daschle said. "His health care program is affecting tens of thousands of South Dakotans. South Dakotans have benefited enormously."
Still, the state's economic performance is underwhelming, especially when compared to neighboring North Dakota, a beneficiary of the fracking boom. According to the Bloomberg Economic Evaluation of States, an index that looks at a range of economic indicators, North Dakota is number one in state improvement since 2009. South Dakota, meanwhile, ranks in the middle of the index, at 27. The state's per capita income is $46,345—almost exactly the national average—but it increased an anemic seven-tenths of one percent between 2013 and 2014. That compares to a three percent increase nationally.
Whatever the reason, Obama's visit on Friday completes something short of a victory lap. South Dakota is further from the purple center than ever before. The state that Obama lost by eight percentage points in 2008 handed him a 18 percentage point defeat four years later. That's change he'd probably rather not believe in.
—Alexandre Tanzi contributed to this story.
Before it's here, it's on the Bloomberg Terminal.
LEARN MORE