Obama Greeted in Portland by Trans-Pacific Partnership Protesters
The president argues that the trade deal will be good for American workers.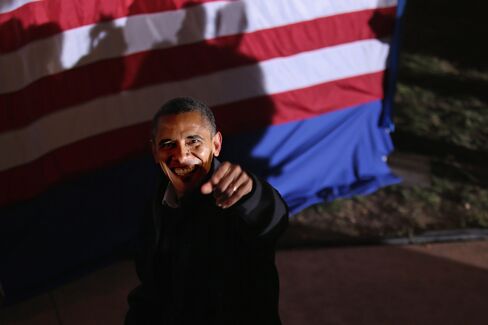 "Hey hey, ho ho, fast track has got to go!" chanted a crowd of a couple hundred protesters outside a hotel in Portland, Ore., awaiting President Barack Obama's arrival for a Democratic National Committee fundraiser.
Obama has experienced this scenario before: Getting his motorcade past protesters from his own party's base on his way to raise money for fellow Democrats.
Back in the heat of the Keystone XL pipeline debate, before Obama's 2012 re-election, critics of that proposal, including that ubiquitous guy in a polar bear costume, were always showing up outside fundraisers.
Now Obama is championing the Trans-Pacific Partnership trade deal and fast-track legislation to help ease a final agreement. His advocacy pits him against many fellow Democrats aligned with organized labor or the environmental movement who say past trade deals have cost U.S. workers jobs and wages and failed to protect the environment.
Obama told donors at the Sentinel Hotel that he wants to "make sure we are accessing the markets of the future" to help the American middle class. "We are not afraid of competition," Obama said. "We are concerned if the playing field is not level." He said the U.S. needs "enforceable, tough fair-trade deals" that ensure the nation is not "locked out of these markets." The crowd applauded, but not as enthusiastically for other aspects of his remarks such as his call for immigration reform.
Obama's appearance Thursday night at the DNC event with 300 supporters, giving up to $33,400 each, came on the eve of his planned appearance Friday at Nike headquarters to promote his trade plans. He has said he will avoid the mistakes of predecessors' trade deals and expand U.S. exports and jobs.
The Oregon Fair Trade campaign has been organizing protests during Obama's visit, with a "Just Don't Do It" Campaign, playing off Nike's "Just Do It" slogan. The group said on its website that the fast-track legislation is "effectively stripping Congress of its constitutional authority to regulate international trade" and that Obama is making his case "at the headquarters of the company that wrote the book on offshoring." The group said that Nike's example, with less than 1 percent of the 1 million workers involved in making its products worldwide being based in the U.S., foreshadows lower wages and U.S. job losses if TPP goes forward.
Before it's here, it's on the Bloomberg Terminal.
LEARN MORE