De Blasio's 'Progressive' Contract With America Seeks $15 Wage Floor and Paid Leave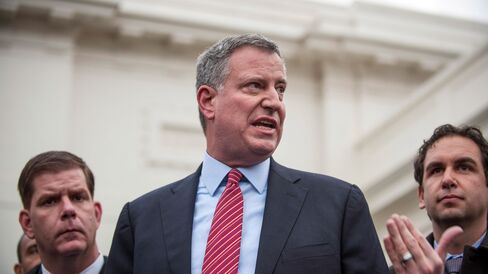 New York City Mayor Bill de Blasio will call for tax and policy changes including a $15-an-hour federal minimum wage and national paid sick and family leave when he releases his "Progressive Agenda" in Washington, according to a draft invitation to the event obtained by Bloomberg News.
The mayor plans to release his proposal during the May 12 event at the U.S. Capitol and ask supporters to sign on to it, according to the invitation. The approach is modeled after the "Contract With America" that former Republican House Speaker Newt Gingrich pursued in the 1990s, and is aimed at drawing attention to de Blasio's nationwide effort to resolve income inequality.
"It is not meant to be seen as a comprehensive set of proposals to combat income inequality, but rather a bold collection of core policy proposals around which progressives can organize and mobilize," the invitation said.
Under the category "lift the floor for working people," the proposal calls for raising the federal minimum wage so that it reaches $15 an hour from $7.25 now, and linking it to inflation.
It also advocates changes in federal law to enhance workers' right to organize, protections against exploitation of low-wage employees and opposing trade deals "that hand more power to corporations at the expense of American jobs, workers' rights and the environment."
Sick Leave
The plan calls for helping working families by passing national paid sick and family leave; making pre-kindergarten, after-school and childcare programs universal; expanding the Earned Income Tax Credit and allowing refinancing of student loan debt.
The "tax fairness" proposals include closing the so-called carried interest loophole, which allows hedge-fund and private-equity managers to reduce their taxes. It also advocates implementing the "Buffett Rule," named after Berkshire Hathaway Inc. Chairman and Chief Executive Officer Warren Buffett, which says that no household making more than $1 million a year should pay a smaller share of their income in taxes than a middle class family pays. It also seeks to end "tax breaks for companies that ship jobs overseas."
Before it's here, it's on the Bloomberg Terminal.
LEARN MORE