Martin O'Malley Keeps On Baiting Hillary Clinton
His message is he's an authentic progressive and she's not. But will it gain traction in the Democratic primary?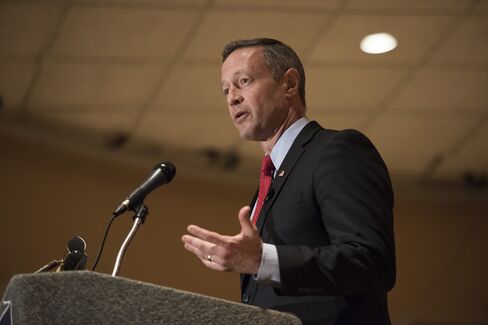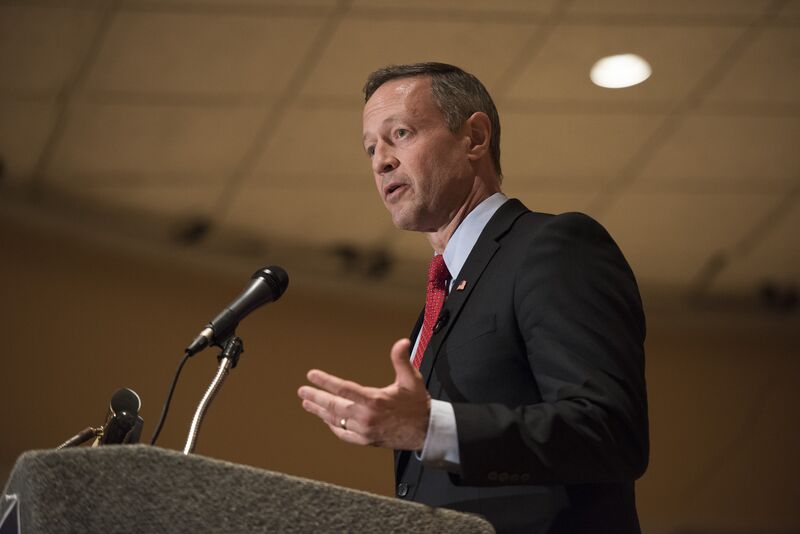 According to the latest polls, it may not be working, but Martin O'Malley remains a mission to paint Democratic presidential frontrunner Hillary Clinton as an inauthentic opportunist, as evident in his messaging so far and signals from people familiar with his political strategy.
The former Maryland governor hasn't yet formally declared his intentions to challenge Clinton for the White House but he has begun portraying her as a politician who shapes her positions according to public opinion. In marked contrast to Senator Bernie Sanders, a Vermont socialist who had an outwardly friendly Twitter exchange with Clinton on the day he announced he was challenging her, O'Malley has gone after the former secretary of state, albeit sometimes without mentioning her name.
"I believe that we are best as a party when we lead with our principles and not according to the polls," he told reporters when he spoke at Harvard on April 16, summing up the theory of his would-be candidacy. "And every election is about the future. And leadership is about making the right decision, and the best decision before sometimes it becomes entirely popular." One day later he took a similar veiled swipe at Clinton on CBS' Face The Nation. "You can't forge public opinion by following public opinion," he said.
So far, as Clinton has worked to align herself with progressives on a host of issues—sometimes altering her past positions. She has also maintained intimidatingly high popularity levels with Democrats.
O'Malley, by contrast has scant name recognition and barely registers in early primary polls. The lead singer of an Irish rock band named "O'Malley's March," he strikes up the same tune on issue after issue: I was fighting on the progressive side from the start; Clinton wasn't—and in some cases still isn't. (Her campaign declined to comment for this article.)
Here are five notable examples.
Child Refugees at the Southern Border
As Clinton was shoring up her progressive credentials on May 5 at a Las Vegas roundtable by championing relief for undocumented people brought to the U.S. as children, O'Malley spokeswoman Lis Smith released a statement touting his support for letting a flood of children who arrived at the Southern border last year stay in the U.S. after they had fled gang violence in Central America.
"Governor O'Malley stood up when it mattered. When most leaders in the Democratic and Republican Parties were saying that we should close our border to children fleeing violence in Central America, he defied them and said that we could not send children 'back to certain death.' He was criticized for that position, but leadership is about forging public opinion, not following it."
The context: The timing of Team O'Malley's statement made clear that it was a thinly veiled reference to Clinton saying in 2014 that the unaccompanied minors "should be sent back." At the time, the issue received national attention and the Obama White House and Republicans broadly agreed that the children should be processed by the system and deported.
Same-Sex Marriage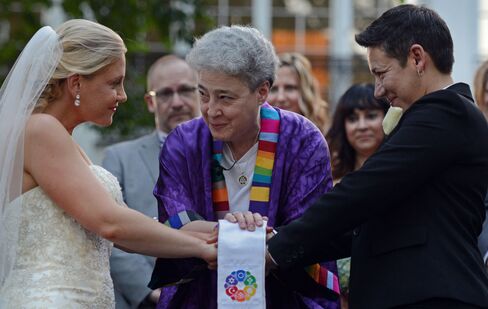 Under O'Malley's watch in November 2012, Maryland became one of the first states to approve same-sex marriage, and the former governor loves to brag about his role in the battle. "I believe marriage is a human right, not a state right. I'm glad she's come around to that position," he told reporters in mid-April, referring to Clinton.
The context: Clinton had just completed her 180-degree flip on gay marriage; her campaign said the Supreme Court should declare it a constitutional right for same-sex couples in a landmark case expected to be decided next month. Her evolution was gradual: in 2013, after stepping down as secretary of state, she came out for same-sex marriage. But as recently as June 2014 she told NPR she wants to let states prohibit it if they choose to, a position that gay rights advocates (and, increasingly, Americans) oppose.
Drivers' Licenses for the Undocumented
As governor, O'Malley signed a law permitting undocumented immigrants to obtain drivers' licenses. "I believe that we do our country a disservice when we make it harder for new American immigrants to abide by the rules of the road and obtain drivers' licenses," he told a group of reporters at Harvard University in April. "And I'm glad she [Clinton] has come around to that position."
The context: During the 2008 primary, Clinton opposed drivers' licenses for people in the U.S. illegally (after initially hesitating during a debate). At the time the Democratic Party was divided on the issue of immigration. Not so anymore. In mid-April, days after launching her 2016 campaign, she came around. "Hillary supports state policies to provide drivers' licenses to undocumented immigrants," her campaign told the Huffington Post.
Social Security Expansion
In early March, O'Malley said he'd push for more generous Social Security benefits as president. He reiterated that position in his April speech at Harvard, saying: "Rather than reducing Social Security benefits or privatizing Social Security, we need to expand Social Security benefits." He wants to pay for it by lifting the cap on payroll taxes for incomes above a certain level. Currently, income above $118,500 is not taxed to support Social Security.
The context: O'Malley was drawing a contrast with Clinton, who in 2008 called for a bipartisan commission to propose changes to Social Security. He was well aware that she hadn't taken a position on the issue of expansion, which has been growing in popularity with progressives. Last month her campaign spokesman Jesse Ferguson said "dealing with challenges facing older Americans is a top priority for her" and touted her "record of fighting against privatizing Social Security and opposing cuts to seniors benefits."
Trade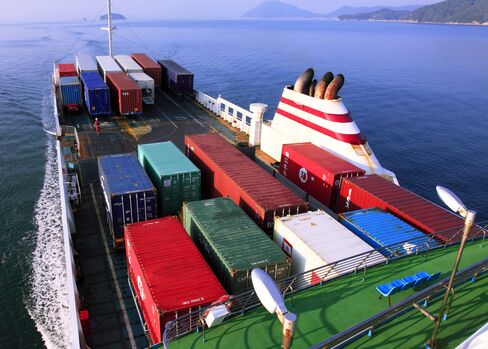 "Hard Choice? Nope. To me, opposing bad trade deals like TPP is just common sense," O'Malley wrote in an April 22 fundraising email, making a snarky reference to Clinton's 2014 memoir Hard Choices. "American workers whose jobs could be on the line right now are owed more than lip service. They deserve to know where leaders stand."
The context: So far, Clinton has not taken a position on the Trans-Pacific Partnership agreement that the U.S. is negotiating with some dozen countries. Congress could begin debating it as early as next week. The White House supports it; the AFL-CIO and many groups on the left oppose it. "She will be watching closely," Clinton spokesman Nick Merrill said in a statement on April 17, "to see what is being done to crack down on currency manipulation, improve labor rights, protect the environment and health, promote transparency, and open new opportunities for our small businesses to export overseas."
Before it's here, it's on the Bloomberg Terminal.
LEARN MORE