Democratic National Committee to Sanction Six Primary Debates
The number is much lower than the 27 Democratic debates of the 2008 primary election.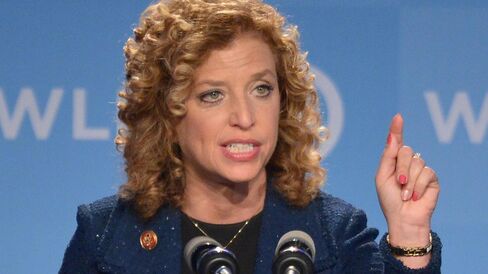 The Democratic National Committee announced Tuesday that it will sanction just six debates between the candidates for the presidential nomination, a group that at this point formally includes only former Secretary of State Hillary Clinton and Vermont Senator Bernie Sanders. In 2008, by comparison, Barack Obama and Hillary Clinton participated in 27 debates leading up to the Democratic primary.
Former Maryland Governor Martin O'Malley's camp voiced skepticism over the plan to scale back. "If Governor O'Malley decides to run, we will expect a full, robust, and inclusive set of debates—both nationally and in early primary and caucus states," spokeswoman Lis Smith said in an e-mail. "This has been customary in previous primary seasons. In a year as critical as 2016, exclusivity does no one any favors."
Sanders said that he hoped to have "as many debates as possible" over the course of the primary election.
"I look forward to having respectful, intelligent debates with Hillary Clinton and any other candidate," Sanders said in a Tuesday interview with MSNBC.
The six sanctioned debates will begin this fall, the committee said.
"We've always believed that we would have a competitive primary process, and that debates would be an important part of that process," said Chairwoman Debbie Wasserman Schultz, a Florida representative, in a statement. "Our debate schedule will not only give Democratic voters multiple opportunities to size up the candidates for the nomination side-by-side, but will give all Americans a chance to see a unified Democratic vision of economic opportunity and progress–no matter whom our nominee may be."
Each of the four early nominating states of Iowa, New Hampshire, South Carolina, and Nevada will host a debate, the committee said. More information, including cities, dates, and debate partners, will be released later, the committee said.
The committee will implement a so-called exclusivity agreement, it said, whereby "any candidate or debate sponsor wishing to participate in DNC debates, must agree to participate exclusively in the DNC-sanctioned process. Any violation would result in forfeiture of the ability to participate in the remainder of the debate process." The intent is to keep the number of debates manageable, committee spokesman Mo Elleithee said.
On Twitter, Clinton wrote that she was "looking forward to a real conversation."
https://twitter.com/HillaryClinton/status/595623583604314112
Before it's here, it's on the Bloomberg Terminal.
LEARN MORE