New Jersey Voters Doubt Christie's Bridge Claims After Allies Charged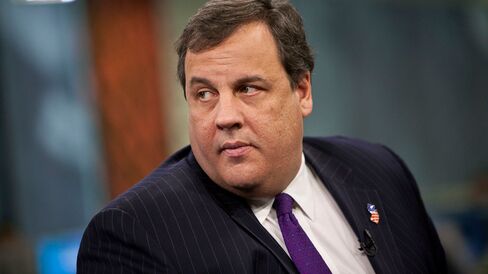 Most New Jersey adults don't believe Governor Chris Christie's claims that he had no knowledge of a plan to shut access lanes to the George Washington Bridge in 2013, according to a Monmouth University poll.
More than 2-in-3 respondents said that Christie, a Republican considering a 2016 run for president, hasn't been completely honest about what he knew. Half think he was personally involved in the closings, which paralyzed the community of Fort Lee, New Jersey, at the base of the bridge.
The poll was the first taken since three former Christie allies were charged on May 1 in the plot to cause a traffic jam as punishment of a Democratic mayor who didn't endorse Christie's 2013 re-election campaign. The scandal has tarnished the governor's approval rating, which fell to an all-time low of 35 percent in the Monmouth poll released on Monday.
"Most New Jerseyans don't buy it," Patrick Murray, director of the poll, said of Christie's claims that he knew nothing. "These numbers are not encouraging for someone with aspirations to the White House."
The approval rating is down from 48 percent in February and a high of 70 percent in early 2013 after Hurricane Sandy. Christie, 52, was re-elected after winning over Democrats and independents with his leadership as the storm struck the East Coast.
Support Slides
In the latest poll, approval among Democrats dropped to 19 percent, from 39 percent in February, while support from independents slid to 34 percent from 47 percent. Support from Republicans slid to 65 percent from 70 percent.
David Wildstein, a former ally of Christie at the Port Authority of New York and New Jersey that runs the bridge, pleaded guilty to federal charges in the plot and two others were indicted. U.S. Attorney Paul Fishman stopped short of saying Christie was aware of the scheme.
Alan Zegas, Wildstein's lawyer, has said "evidence exists" showing Christie knew about the closings as they occurred.
Monmouth University surveyed 500 New Jersey adults by telephone from May 1-3, including 441 registered voters. The survey had a margin of error of plus or minus 4.4 percent, while the registered voter sample had an error margin of 4.7 percent, according to the survey.
Before it's here, it's on the Bloomberg Terminal.
LEARN MORE