Hillary Clinton a Free Trader, or Not, Depending on the Moment
Clinton may be parting ways from President Obama — and her husband — on the trade issue.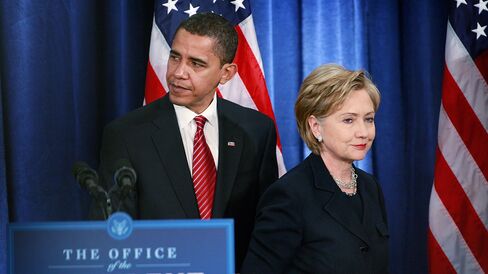 Three years ago Secretary of State Hillary Clinton praised a proposed deal to reduce trade barriers among Pacific Rim nations as "the gold standard" for such pacts.
Now, the presidential candidate Clinton has nothing to say as President Barack Obama fights to win expanded negotiating authority to complete the agreement over furious opposition from organized labor and progressives in his own party.
Her silence on the premier economic issue dividing Democrats is consistent with a long history of wavering under pressure on trade. She has even alternately praised and criticized the landmark North American Free Trade Agreement signed by her husband in 1993, calling it good for America or a "mistake," depending on the audience and circumstances.
Critics of the current deal, the Trans-Pacific Partnership, are frustrated by Clinton's ambiguous stance as she tries to hold together a political coalition that includes party activists on the left and major financial supporters from business and Wall Street.
"We expect those who seek to lead our nation forward to oppose fast track," AFL-CIO President Richard Trumka said in a speech Tuesday without naming Clinton. "There is no middle ground, and the time for deliberations is drawing to a close."
Some opponents of the trade accord believe a clear statement from their party's almost-certain presidential nominee opposing fast-track authority, which allows Congress to vote up or down on trade deals but not to amend them, might seal its defeat and kill the entire agreement.
"What she does could make a difference on the outcome," said Lori Wallach, director of Public Citizen's Global Trade Watch. Opposition from Clinton "would spotlight how isolated President Obama is among Democrats."
Lines Drawn
Democratic backers of the deal aren't pressing as hard for her to express clear support and anger key constituencies such as unions and environmentalists whose enthusiasm Clinton would need in an election. Unions consider the Pacific trade agreement a job killer and activists worry that certain provisions could be used to override environmental, health and safety regulations.
A public Clinton stand on fast track "would be a factor but I don't think it would be particularly dispositive at this point," said Representative Gerald Connolly, a Virginia Democrat who supports the initiative. "The lines have been drawn."
Japanese Prime Minister Shinzo Abe traveled to Washington this week and delivered an address to Congress to promote expanded trade as Congress moves closer to a vote on negotiating authority. The measure would allow Obama and his successor to negotiate trade deals for up to six years and submit them to Congress for votes.
Only 13 Democratic House members have publicly expressed support for the legislation, considered necessary to complete the Pacific trade deal, which would cover the U.S. and 11 other nations accounting for 44 percent of American goods exports in 2013.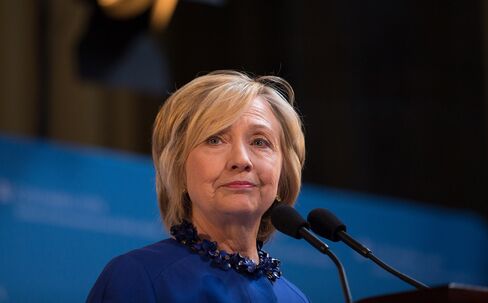 Trade Links
No recent Democratic political name has been more closely linked to the cause of expanded international trade than the Clintons'. NAFTA was a signature achievement of Bill Clinton's presidency, won only after he took on the labor movement, key Democratic congressional leaders and much of his party's rank and file in Congress.
Then-first lady, Clinton praised NAFTA in 1996 as "proving its worth." At a meeting of the World Economic Forum in Davos, Switzerland, in 1998, she thanked business leaders for lobbying for the trade deal with Mexico and Canada and criticized them for not making a more vigorous effort to give the administration fast-track authority to negotiate more such agreements.
In 2000, while campaigning for the U.S. Senate in New York, where upstate manufacturing jobs had declined, Clinton called NAFTA "flawed." After she was elected, she listed the trade agreement as an example of her husband's "good ideas and courage" in a 2002 speech to the centrist Democratic Leadership Council. In 2004, she said "on balance NAFTA has been good for New York and America."
As she began to gear up for her 2008 White House run, she turned more skeptical. She voted against the Central American Free Trade Agreement in 2005, saying it lacked sufficient protection for foreign workers. She joined fellow New York Democratic Senator Chuck Schumer in sponsoring legislation calling for sanctions on Chinese exports unless that country stopped holding down the value of its currency.
By 2007, she called NAFTA a "mistake" in a CNN presidential debate. During the campaign she called for a "trade timeout" on additional agreements and promised to appoint a "trade prosecutor" to more vigorously pursue violations by U.S. commercial partners. A Washington Post editorial in 2007 called her evolution on trade issues "opportunism under pressure."
Clinton wasn't the only candidate to court voters in industrial states unhappy with trade deals. Obama criticized her on NAFTA during hard-fought primaries in Ohio and Pennsylvania and promised to renegotiate the agreement if he were elected. He never followed through.
After House and Senate leaders negotiated compromise language on fast-track legislation in April, Clinton spokesman Nick Merrill issued a statement on the Pacific trade talks that didn't take a position on the vote facing Congress.
"She will be watching closely to see what is being done to crack down on currency manipulation, improve labor rights, protect the environment and health, promote transparency, and open new opportunities for our small businesses to export overseas," Merrill said.
"Any new trade measure has to pass two tests," he added in the statement. "First it should put us in a position to protect American workers, raise wages and create more good jobs at home. Second, it must also strengthen our national security."
Perhaps mindful of his own history on trade, Obama has declined to criticize his former secretary of state for withholding public support on the fast-track debate.
"She said what she should be saying, which is that she is going to want to see a trade agreement that is strong on labor, strong on the environment, helps U.S. workers, helps the U.S. economy," Obama said in an interview Tuesday with the Wall Street Journal. "That's my standard as well, and I'm confident that standard can be met."
Bill Galston, a domestic policy adviser in the Clinton White House, said he'd be surprised to see the former first lady take a position on fast-track authority, which she can always characterize as "a procedural issue.'
''It's clearly her assessment that it has become a very volatile issue," Galston said. Should a complete treaty come before Congress, he added, it would become "increasingly difficult for her to avoid taking a position."
Before it's here, it's on the Bloomberg Terminal.
LEARN MORE