Bernie Sanders Faces a Challenge with Iowa Independents, Clinton Campaign Says
Matt Paul, who is running Clinton's campaign in the Hawkeye State, says Vermont senator may have trouble connecting with voters in there.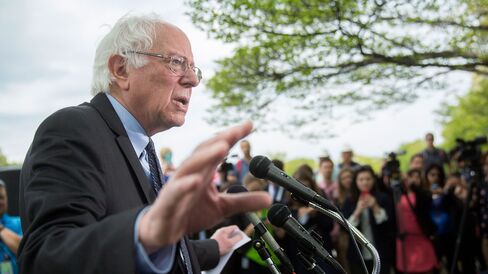 To hear Hillary Clinton's campaign tell it, Bernie Sanders will have his work cut out for him in Iowa.
Matt Paul, who is running Hillary Clinton's campaign in the Hawkeye State, said Thursday that the biggest challenge Vermont's independent senator will face in Iowa will be winning over those who also self-identify as distinct from the two major parties.
"He has sort of staked out a very sort of key sector with Democrats,'' Paul said over coffee. Paul grew up in Cedar Rapids, and his home state is almost equally divided between Republicans, Democrats and independents, with the state leaning slightly more Republican recently. "Remember, Iowa is a third, a third and a third,'' he said, "so Senator Sanders' challenge will be getting independents to cross over."
"Martin O'Malley will do well here,'' he said of the former Maryland governor, who is also expected to run. Whether the competition will be good for Clinton, as many Democrats have argued, he wouldn't say: "That's for others to decide. We have to not take anything for granted."
One of Clinton's biggest liabilities here, in Paul's view, is the shape Iowa's Democratic Party is in. "You have a state with a Democratic Party that had a very tough 2014,'' he said, losing Tom Harkin's former U.S. Senate seat to Republican Joni Ernst.
The issues Clinton heard about most often from Iowans during her recent initial campaign trip here, he said, concerned student loan debt, recent cuts in mental health services in Iowa, and retirement security.
And did Iowans ask about any of the recent controversies over potential conflicts of interest and undisclosed foreign donations to the Clinton Foundation? Jiggling his leg under the table, Paul looks at me over the tops of his glasses and answers, "That is one question I did not hear once, and I was with her quite a bit. There are always going to be these Washington—this guy from Breitbart, agenda-driven" journalists, he said, referring to Peter Schweizer, the author of Clinton Cash, who has worked for the conservative site Breitbart.com.
"I don't want to speak for Iowans, but what they're focused on is who's going to speak for them.'' What Hillary Clinton brings to that debate, he said, "will far outweigh the challenge of the day, or right-wing bloggers."
He disputes reports that all or even most of those who met her on that first swing were pre-screened. But, he said, "It is important that we see folks who are going to caucus" on Feb. 1. "She wanted to sit around a table with them, like this,'' he said, and "she made it very clear she wanted time; she didn't want to be rushed," or have 15 people from Washington staffing her and standing around looking at their Blackberries.
Paul himself just moved back to Des Moines, where he owned a home until a year ago, from Washington, where he worked as communications director for Ag Secretary Tom Vilsack for the last four years. He was with Vilsack in Iowa for 12 years before that, so remembers how much Hillary Clinton helped him when he was 15 points down in his gubernatorial race in 1998.
He and other operatives here are still moving into their offices and are busy meeting with local officials—like that guy over there, he says, pointing at a young man at a table across the café who is having coffee with a leader of the Polk County Democrats.
When the candidate herself returns to the state—soon, he promises—the events she does are going to stay pretty small until at least early summer. "I know it will annoy reporters,'' he said, "but we're here to talk to Iowans." Why would that annoy reporters? Because we'd prefer a big kick-off event, said Paul, who before he got into politics worked in broadcast journalism. Only 30 minutes after Clinton made a comment about wanting to get money out of politics, he complained, reporters were already pressing for specifics.
The caucuses are about relationships, he said, so from now until Feb. 1, he said, the Clinton team he's leading is going to be going "literally house to house" working on those.
Before it's here, it's on the Bloomberg Terminal.
LEARN MORE