Back to the Future? In Los Angeles, Rubio Invokes Youth and the Past
As he launches a West Coast swing, the senator criticizes Obama's Cuba overtures and says he'd spend more government funds on infrastructure, research, and national security.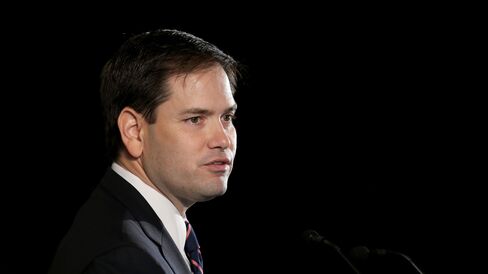 Republican presidential candidate Marco Rubio returned to his theme that "this next election is a generational choice about the direction of this country," in a Los Angeles speech Tuesday, even though he seemed to wax nostalgic for earlier eras, when wars were cold and big federal projects were hot.
The Florida senator told a racially diverse audience of about 200 people at the City Club in downtown Los Angeles that American manufacturing is at a competitive disadvantage because of taxes and regulations, and called for a reduction in the corporate tax rate to 25 percent.
He complained that the country has gone from an era in which the American Dream was the envy of the globe to one in which people are living paycheck to paycheck and unable to start new businesses because of a lack of capital and over-regulation. "What is happening is a direct result of our leaders, leaders who are trapped in the past," Rubio said.
Rubio, who will be headlining fundraisers in Los Angeles and San Francisco on his first foray to the West Coast since declaring his candidacy earlier this month, emphasized his status as the 2016 race's youngest candidate. "I'll be 44 in a few weeks–but I feel 45," he joked.
In his talk, however, Rubio hewed to the muscular foreign policy of an earlier generation, criticizing President Barack Obama's outreach to Cuba, the communist island that Rubio's parents fled.
"Virtually every piece of property in Cuba today was stolen from someone," he said, accusing the administration of "cozying up" to a government that is "tyrannical" and "harbors fugitives." Challenged as to whether he supports similarly punitive policies toward China and Vietnam, two significant U.S. trading partners, Rubio insisted his answer is yes.
"Too many of our leaders travel there and say nothing about the gross human rights abuses that take place there," he said."We have outdated leaders who want to continue to pour money into outdated 20th century ideas."
Rubio wasn't asked about some of the hot-button issues such as immigration and gay marriage. In fact, the audience lobbed such softballs that the senator himself joked about it with one questioner who complained that "our current president has trampled on small business."
"I'm against trampling small-business owners," Rubio said. "I'm also against hurricanes and earthquakes."
While smaller government is generally popular in his party, Rubio said there were some areas where he'd increase government spending, including increased spending on infrastructure—"including broadband infrastructure"—research, and national security. One of the ways he plans to pay for it: Allowing future retirees to opt out of Medicare and buy a private plan.
Asked by a retired aerospace engineer about companies using profits to buy back stock rather than fund research and development, Rubio blamed government spending reductions. "There's less spent on R&D," he said "because government contracting has cut back dramatically."
"We're not trying to get to the moon anymore," he added. "I'm not saying the moon should be our goal, but there should be some kind of a strategic vision."
Before it's here, it's on the Bloomberg Terminal.
LEARN MORE