Chipotle Manager: Hillary Clinton Didn't Leave Anything in Tip Jar
The bill came to just over $20, and no change was deposited into the tip jar on the counter.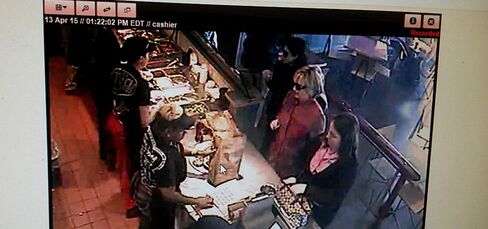 One of the great political mysteries of the early 2016 presidential campaign has been solved: Hillary Clinton did not leave a tip at the Chipotle restaurant she visited during her road trip to Iowa on Sunday.
"Her bill was $20 and some change, and they paid with $21 and left" without putting anything in a tip jar on the counter, Charles Wright, the manager at the Maumee, Ohio, Chipotle restaurant told Bloomberg.
Wearing large sunglasses, Clinton wasn't recognized by any of the workers at the fast-food Mexican chain when she and Huma Abedin, the vice chairwoman of her presidential campaign, ordered a chicken burrito bowl, a chicken salad, a blackberry Izzy, and a soda.
"The other lady paid the bill," Wright said of one of Clinton's dark-haired companions. "Clinton didn't pay."
The incognito campaigners entered the Chipotle shortly after 1 p.m., "at the end of the lunch rush," Wright, 29, said. "There were still a bunch of customers, but it wasn't crazy or anything."
The change from the meal totaled less than a dollar, but it was pocketed rather than deposited in the tip jar as many customers at the restaurant do, said Wright.
"We get a bunch of tips," said Wright, who only realized that the customer had been the presidential candidate after news organizations began calling the restaurant and he had reviewed surveillance video. "If we're doing our job right, people tip."
The question of whether Clinton had tipped the workers during the Chipotle stop was first asked by conservative radio host Rush Limbaugh on Tuesday.
"But I would like to know if she left anything in the tip jar, because that would be an indication that she understands the average, ordinary, everyman that she seeks to represent," Limbaugh said. "I mean, that's where the people that work at Chipotle, that's where they make a little extra, in the tip jar, and I haven't heard a word about whether or not she visited the tip jar, whether she put anything in it or not."
But Wright, who regretted not being able to meet Clinton, says the whole episode was no big deal.
"It's really nobody's business," Wright said, "if somebody leaves a tip or they don't."
CORRECTION: An earlier version of this story incorrectly stated that Wright was a Republican.
Before it's here, it's on the Bloomberg Terminal.
LEARN MORE