Rand Paul to College Students: I'll Let You Deduct Your Tuition Costs
President Obama is pushing for free community college. Why not just offer undergrads free money?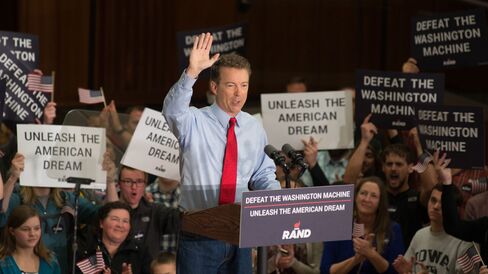 IOWA CITY, Iowa—Kentucky Senator Rand Paul came to the University of Iowa to offer a few hundred college students something they were sure to love, something they were probably not expecting from a libertarian. He came promising free money.
"The president wants to offer you free college," Paul said, referring to President Barack Obama's State of the Union proposal to fund two years of community college (not an education at a place like Iowa State, which is a public university) for any American who wanted it. "Sounds good, at first, until you really think about it. How could it be free? Won't somebody still bear the cost of paying professors, paying for electricity, paying janitorial services? I've got a better idea—let's let college students deduct the cost of their education over their working career!"
Paul had discussed the idea before. In September 2014, at a Q&A at the University of South Carolina, when he got a question about student loan debt, Paul offered a few patches, like tax credits for student loans and raising the income ceilings on deductions for interest payments.
Those proposals didn't get a lot of attention at the time, but there were at least quadruple the reporters on hand to hear Paul launch his Iowa campaign several months later. Not one of them got an answer about how Paul would pay for the tax break. Several journalists, like Time's Zeke Miller, noted that a nearly identical proposal had been a plot point on The West Wing, that neoliberal fan fiction of the late 1990s and early aughts. On the show, the idea crashed against the rocks when...people wondered how to pay for it.
Paul has been working on a tax reform plan, though his staff has generally ignored questions about when people might see it. (When Bloomberg recently asked Paul strategist Doug Stafford if there was a date for the plan's release, his answer started and ended with "Yes.") And after the speech, none of the students or other twenty-somethings who talked to Bloomberg about Paul mentioned the deduction as one of the highlights of the speech. Paul's condemnation of the drug war and military adventurism hit; the tax break didn't quite.
There may have been a good reason for this. As Libby Nelson wrote in an analysis for Vox, a write-off for student loans would pack the biggest punch for people who are fairly well off already. "Making tuition fully tax-deductible and removing the income limits would generate a windfall for families from the top income quartile, who pay, on average, more than $42,000 to attend private colleges," Watson wrote. "In 2012, tax-deductible tuition cost the government $512 million, with more than half of that money going to families making more than $100,000 per year."
Yet those sorts of deductions have proven to be politically invincible, once they're law. Earlier in 2015, and not long after the free community college trial balloon went up, President Obama floated the idea of scrapping the 529 tax deduction that allows some college savings to be tax-free. It mostly benefited wealthy people; it was pummeled for days until finally being dropped by Democrats.
A look at Iowa's Republican caucus electorate goes even further toward explaining Paul's brainstorm. In 2012, then-Texas Representative Ron Paul, Rand's father, dominated with voters under 29 years old. Forty-eight percent of them voted for him; the runner-up, Rick Santorum, won less than half that. In Johnson County, which contains the University of Iowa campus, Paul took 30.9 percent of the vote, running just 157 votes shy of a victorious Mitt Romney.
So, Rand Paul will make many more direct appeals to the young voters who could expand the primary and caucus state electorates. He may not have competition when he talks about the war on drugs or his lawsuit against the NSA. But he will have competition when it comes to tuition breaks. On Saturday morning, the office of Vermont Senator Bernie Sanders—still a possible progressive candidate for president—announced that he would soon reveal plans for "tuition-free public education."
Before it's here, it's on the Bloomberg Terminal.
LEARN MORE