Hillary Clinton, First Lady, on Gay Marriage: A Case Study In Opacity
Documents released this week at the Clinton Library reveal an unrevealing politician.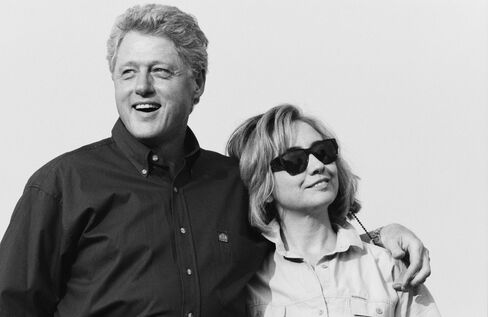 LITTLE ROCK, Ark.—A trove of papers released yesterday at the Clinton library shows that, even before homebrew e-mail servers were an option, Hillary Clinton's operation had mastered low-tech workarounds to avoid leaving a paper trail of her real-time views on controversial subjects.
Even though the first lady maintained her own correspondence office, in at least once instance, her staffers punted an inquiry about her views on a timely controversial issue then dividing Democrats to her husband's staff.
"We have received a few letters on the subject of same-sex marriage," Alice J. Pushkar of the first lady's staff wrote to Kyle M. Baker, on her husband's side of the White House, on Sept. 18, 1996. "I think that it would be more appropriate for a response to come from the President on this than the First Lady. Would it be possible to get a First Lady version of the P-323?"
Later that day, Baker's office generated a form letter, which is among the hundreds of thousands of previously unreleased papers made public. "Thank you for contacting Hillary regarding marriages of couples of the same gender. She has asked me to respond on her behalf," read the letter approved for Bill Clinton's auto-pen signature. "In 1992, I stated my opposition to same-gender marriage, and recently, when the issue was raised in Congress, I said that if a bill consistent with my previously stated position reached my desk, I would sign it."
A little more than 24 hours after that letter was prepared, Clinton did sign the Defense of Marriage Act, ignominiously doing so past midnight in an empty White House without any cameras present. In a contemporaneous signing statement, a belated effort to placate liberal supporters he knew abhorred the bill, Clinton expressed worry that it could serve to "provide an excuse for discrimination."
Hillary Clinton appeared to get through the election season without having to commit to a position of her own. In an interview earlier that year with the San Francisco Examiner's Carla Marinucci, she had said that her "preference is that we do all we can to strengthen traditional marriages" but did not share her view of same-sex unions. Promoting her book It Takes a Village, Clinton told Marinucci that "children are better off if they have a mother and a father," but also that "there are people who are able to fulfill the functions of child rearing who don't fit into the traditional pattern."
As a Senate candidate, Clinton couldn't maintain the ambiguity. In January 2000, she said she would have voted for the Defense of Marriage Act and, despite supporting some rights for same-sex couples, she did not believe that they should be entitled to marry. "Marriage has got historic, religious and moral content that goes back to the beginning of time and I think a marriage is as a marriage has always been, between a man and a woman," she said then.
In 2013, after she left the State Department, Clinton said she had changed her position and now favored recognition of gay marriages. But even last year, 15 months after her husband conceded in a Washington Post op-ed that he had come around to the view that the Defense of Marriage Act had always been unconstitutional, Hillary appeared to be still defending the bill, at least on practical grounds.
"What DOMA did is at least allow the states to act," she told NPR's Terry Gross in an interview that turned contentious when Clinton was asked to trace her change of opinion on the gay marriage. "It wasn't going yet to be recognized by the federal government, but at the state level there was the opportunity. And my husband, you know, was the first to say that, you know, the political circumstances, the threats that were trying to be alleviated by the passage of DOMA thankfully were no longer so preeminent and we could keep moving forward, and that's what we're doing."
Before it's here, it's on the Bloomberg Terminal.
LEARN MORE