Obama's Own Words Lead to Confusion Over Iran Nuclear Timeline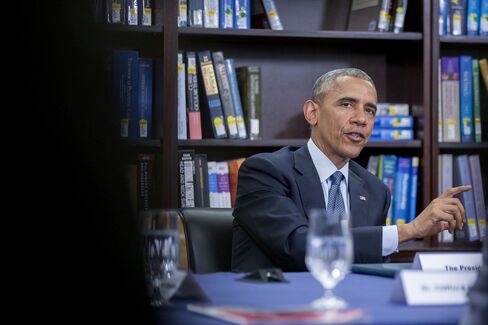 President Barack Obama probably hoped an interview he gave to public radio would help sell Americans on a proposed nuclear accord with Iran.
Instead, critics of the deal, including Israeli Prime Minister Benjamin Netanyahu, have seized on three sentences uttered by the president in their effort to scuttle it.
At issue is how long it would take Iran to produce enough highly enriched uranium to fuel a nuclear weapon after a decade under international restrictions.
Obama seemed to say in the interview with National Public Radio that Iran could rush to do it with almost "zero" warning time once some of the toughest limits lapse under tentative terms of the agreement being negotiated by Iran and world powers.
That's not what the president meant, a State Department spokeswoman said.
"I cannot be more clear about this," State Department spokeswoman Marie Harf told reporters Wednesday, fielding questions about it for the second day in a row. "He was referring to a scenario in which there is no deal. It may not be clear in the transcript. I'm telling you what my colleagues at the White House" say he was referring to.
Netanyahu, who has staunchly opposed the nuclear deal, put out what amounts to an I-told-you-so statement on Wednesday, even as administration officials sought to push back on the interpretation of Obama's comments.
The controversy points to the difficulty the president and top officials will have explaining the complicated terms of the nuclear deal under negotiation -- not to mention all the uncertainties about issues such as inspection and verification raised by differing accounts of what was agreed in a framework announced last week in Lausanne, Switzerland, by six world powers and Iran.
'Highly Technical'
"These are complicated and highly technical issues," Kelsey Davenport, who follows the talks at the Arms Control Association in Washington, said in an interview. "There are also a number of very intricate parameters."
The administration is gearing up its efforts to sell the framework to skeptical lawmakers and others, including Jewish leaders worried about the implications of the deal for Israel's security.
That hasn't been made any easier for White House and State Department spokesmen, who have been trying to clarify what Obama said without saying their boss misspoke.
Asked about the comments on Tuesday, White House spokesman Josh Earnest didn't answer directly, turning instead to a summary of the administration's reasons why the accord would rein in Iran.
The issue concerns "nuclear breakout" time -- how long it would take Iran to produce enough highly enriched uranium to fuel a nuclear weapon. U.S. officials estimate that period now is two to three months and would increase to a year under an accord limiting many elements of Iran's nuclear program before some restrictions start to ease after a decade.
What He Said
Asked in the NPR interview that aired Tuesday about the potential diversion of Iran's stockpiles of low-enriched uranium, Obama commented: "What is a more relevant fear would be that in year 13, 14, 15, they have advanced centrifuges that enrich uranium fairly rapidly, and at that point the breakout times would have shrunk almost down to zero."
"Keep in mind, though, currently the breakout times are only about two to three months by our intelligence estimates," Obama continued. "So essentially, we're purchasing for 13, 14, 15 years assurances that the breakout is at least a year."
Omri Ceren, who has been following the negotiations for the Israel Project, said it seems clear that the president was talking about the situation in the latter years covered by the potential accord.
"The president wasn't muddled at all," he said in an e-mail. He said Harf was "somewhat weirdly" trying to recast Obama's words.
Netanyahu's Statement
In Israel, Netanyahu issued a statement saying that Obama's comments confirm exactly what he has been warning about: that after a decade under restrictions, Iran would be able to ramp up its activities to produce a nuclear weapon with almost no time for actions to stop it.
"This will be the inevitable result of the automatic lifting of the restrictions, which would enable Iran to achieve an industrial-grade production capability," he said in a statement.
Harf said Netanyahu was "just factually inaccurate" in his statement. "Prime Minister Netanyahu has made clear his opposition to these negotiations and to this agreement, sometimes with not all the facts about what's in it" because they haven't been negotiated yet, she said.
Stumping Analysts
One key requirement by the world powers is that the nuclear accord impose provisions that, taken together, would extend Iran's nuclear breakout time to one year for a period of at least a decade, after which some provisions limiting uranium enrichment and other activities will be relaxed or discontinued. Some of those measures in the latter years remain to be determined in talks leading to the June 30 deadline to complete a deal.
Obama's remarks were puzzling to analysts such as Davenport who follow the negotiations between Iran and the world powers -- the U.S., U.K. France, Germany, Russia and China.
"The idea that a few years after the 10-year limitation is up that Iran would be close to near-zero is not in line with the parameters that have been laid out" in Lausanne, she said. "Iran is not going to go off of a cliff and by year 13 have a near-zero breakout time."
But she said that the president's comments also don't make sense as explained by Harf, who said Obama was talking about the scenario in which there is no deal. If there isn't a deal, "we would be to a near-zero breakout timeline in far less than 13, 15 years," she said.
Kerry's 'Guarantee'
Secretary of State John Kerry said Wednesday the deal isn't about just delaying the day when Iran will become a nuclear-weapons state.
"No, it is not just about that," he said on the PBS NewsHour. "It's about denying them a nuclear weapon."
The deal being negotiated would be a "guarantee that for the next 15 to 20 years they won't possibly be able to advance that program and then, when they become a more legitimate member of the non-proliferation community and subject to lifetime inspections and investigation, we will have accountability," he said.
Before it's here, it's on the Bloomberg Terminal.
LEARN MORE