South Carolina Republicans Uniformly Condemn Walter Scott Shooting
Captured on video, Scott's killing has been met with outrage by politicians of both parties.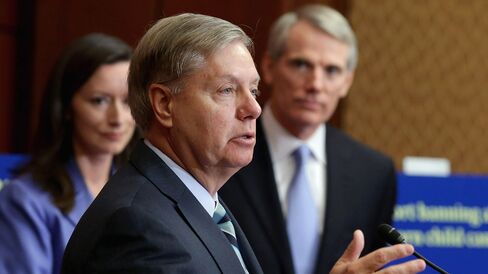 South Carolina lawmakers were united in sadness and outrage Wednesday in the aftermath of shooting death of Walter Scott at the hands of police North Charleston officer Michael Thomas Slager.
The reaction comes after video surfaced documenting the shooting, which occurred while Scott, who was unarmed, was trying to run away from Slager following a traffic stop. Slager has been charged with murder.
Both of South Carolina's senators weighed in on Twitter. Republican Lindsey Graham, a possible 2016 presidential candidate, tweeted, "Our thoughts and prayers go out to the family of Walter Scott. The horrific video is very difficult to watch and deeply troubling on many fronts." Later he also posted a photo of his full statement.
https://twitter.com/GrahamBlog/status/585837105718263808
South Carolina's other Republican senator, Tim Scott, wrote on Twitter, "After watching the video, the senseless shooting and taking of #WalterScott's life was absolutely unnecessary and avoidable. My heart aches for the family and our North Charleston community. I will be watching this case closely."
Republican Representative Mark Sanford wrote on his Facebook page:
I believe the unfathomable and unconscionable killing of Walter Scott, captured on video for all four of his children to see, should be met with real consequence and a thorough review. In the past year, we have witnessed communities torn apart by police-involved deaths from Ferguson to New York City, and now such a tragedy has struck right here at home. We cannot let the actions of one officer cast a shadow on every man and woman who wears a badge, particularly when I believe they overwhelmingly serve our community honorably in all sorts of very trying settings and circumstances. My prayers are with the family and friends of Walter Scott and all affected in this tragedy.
South Carolina's Republican Governor Nikki Haley gave a statement, saying:
We have many good law enforcement officers in the field. What happened in this case is not acceptable in South Carolina, nor is it reflective of our values or of the way most of our law enforcement officials act, and I assure all South Carolinians that the criminal judicial process will proceed fully. This is a sad time for everyone in South Carolina, and I urge everyone to work together to help our community heal.
Representative James Clyburn, the assistant Democratic leader in congress and the state's lone Democrat on Capitol Hill, said he appreciated the swift response by North Charleston's mayor and police department. At the same time, he noted that the shooting is not anything new.
"I am not surprised at the shooting," he said on MSNBC's Andrea Mitchell Reports. "I am really saddened by it."
Clyburn referenced the North Charleston Police Chief Eddie Driggers' statement in which he said he considers his officers to be like his children.
"There comes a time in dealing with our children when we have to have some tough love and I think that this calls for some tough love in this instance," Clyburn said.
Before it's here, it's on the Bloomberg Terminal.
LEARN MORE