Here's What's Behind Rand Paul's New Defense Spending Proposal
Do the flip-flop accusations stick?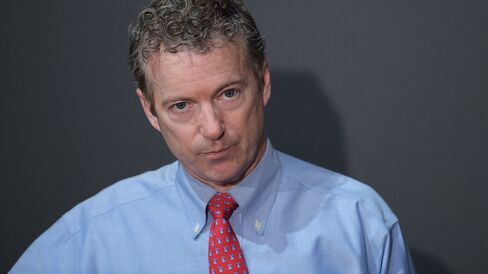 Buried in the tree of amendments to the budget resolution is Kentucky Senator Rand Paul's SA 940. It begins with this: "On page 14, line 2, increase the amount by $76,513,000,000." As Bloomberg's Kathleen Miller and Erik Wasson report, Paul's proposal would plus up defense spending by almost $190 billion over the next two years.
According to Time, it represented "an about-face on a longstanding pledge to curb the growth in defense spending."
According to the Huffington Post, Paul channeled his "inner Tom Cotton."
According to Reason magazine (where I worked from 2006 to 2008), "it ain't gonna help at all with libertarians who see in Paul their best hope for a major party politician whom they would vote for in a presidential race."
Across the Internet, Paul's amendment is being read as a strategic retreat from fiscal hawkishness. He arrived in the Senate and proposed a draconian budget in which defense spending would have been cut to $542 billion in 2016, with war funding zeroed out. Unsurprisingly, Paul's staff sees no reversal, no retreat.
"It is done in response to others in both chambers who are attempting to add to defense spending—some way more than Senator Paul's amendment—without paying for it," said Paul spokesman Doug Stafford in an e-mail. "Senator Paul believes national defense should be our priority. He also believes our debt is out of control. This amendment is to lay down a marker that if you believe we need more funding for national defense, you should show how you would pay for it. No one should be seeking increased funding for anything by increasing our debt."
In interviews over the years—all of them after the 2011 budget proposal—Paul has indeed hinted at this. In 2012, he pre-empted arguments in favor of restoring the defense funding cut in sequestration by saying that really necessary defense spending could be restored.
"To me, that means that the top line number is lower, and if you really believe in savings in the military budget or else you'd have to find the savings, you'd be forced to find the savings," he said. "If they could offset it with true one-to-one spending cuts somewhere else, I might consider supporting that."
Paul can point to other examples of that pitch. Just this weekend, in response to a town hall question in Exeter, N.H., Paul cited the former Navy Secretary John Lehman to say that credible people wanted the defense appropriators to "make choice" and make cuts. "I can't tell you the exact amount to spend on the military," he said. "It's not a blank check."
https://youtu.be/eTHuzIbSRFI?list=UUe0JS8v4tw8jR-TzfVsLRJw
Over the course of a couple of minutes, Paul gave no numbers, but left the impression that a bloated defense budget could be cut. "I don't want us to be weak," said Paul. "But if you're going to spend money it has to come from somewhere."
That can be squared with what Paul is doing now, but his office did not haul out the trumpets and cheerleaders to announce the amendment. Yet his amendment cuts $21 billion from the 2016 budget for international affairs; $20 billion from education, training, employment, and social services; $14 billion from general science, space, and technology; and $41 billion from income security. With Texas Senator Ted Cruz, who is already running for president, he introduced an amendment cutting $11.2 billion from the Natural Resources and Environment budget for 2016. Paul's cuts to non-defense spending added up to more than the new defense spending.
The flip-flop/hypocrisy/Judas charge will absolutely still be levied at Paul. In the past, he's talked about an "audit of the Pentagon," about waste in the defense budget, and about outright "crap" that gets mindlessly funded. In this stab at defense spending and trade-offs, he funds the Pentagon and pays for it with cuts to less-than-sacred cows. Paul's amendment can be contrasted with the war surtax floated by Democratic Senator Chris Coons of Delaware, or with the arguments by South Carolina Senator Lindsey Graham (another 2016 rival) that the sequestration caps should just be busted, no matter where the money comes from.
"This is one amendment, not a budget proposal from Senator Paul," argued Stafford. "It is one small snapshot of how to pay for defense spending. Senator Paul has put forth entire fully balanced budgets. He has more amendments (like an amendment coming up later on overseas emergency spending, where he will also propose cuts to pay for it). The point of the amendment today is to show that you need to be fiscally responsible. The time of funding any priorities—even vital ones like national defense—on a credit card, needs to end."
Before it's here, it's on the Bloomberg Terminal.
LEARN MORE