After Iran Letter, Democrat Proposes to Take Away Tom Cotton's Stationery
Senator Debbie Stabenow has submitted a non-binding resolution that takes aim at her Republican colleagues.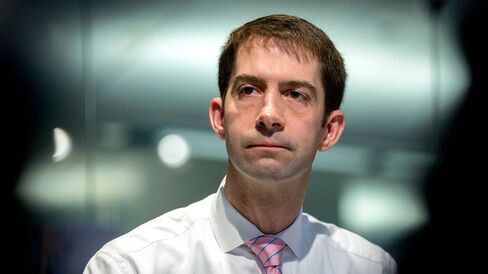 If a Senate Democrat gets her way, Tom Cotton won't be writing any more meddling letters to foreign governments.
Senator Debbie Stabenow of Michigan has filed a non-binding, tongue-in-cheek resolution in that aims to prevent her colleagues from meddling with the president's foreign policy agenda by denying them stationery or electronic devices on which to write letters with that intent.
The amendment to the Senate budget resolution was submitted in response to the open letter sent to Iran's leadership by Arkansas Senator Tom Cotton and signed by 46 of his Republican colleagues, in hopes of putting the brakes on the ongoing nuclear negotiations with the Obama administration.
The text of Stabenow's resolution says its purpose is to "establish a deficit-neutral reserve fund relating to the purchase of stationery or electronic devices for the purpose of members of Congress or congressional staff communicating with foreign governments and undermining the role of the President as Head of State in international nuclear negotiations on behalf of the United States."
While Cotton's letter was indeed written on official Senate stationery, he presumably still has a few stray pages lying around his office. Ditto the use of Cotton's existing electronic devices and Senate e-mail address.
And let's be clear: Stabenow's act of political trolling does not have a chance of becoming law, much less being introduced for an actual vote as part of the budget resolution.
Before it's here, it's on the Bloomberg Terminal.
LEARN MORE