Donald Trump Goes Birther on Canadian-Born Ted Cruz
The reality show host is questioning whether the Cruz's foreign born status precludes him from running for president.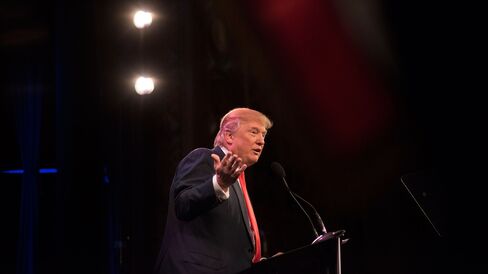 Donald Trump remains interested in birth certificates.
The reality television host, real estate magnate, and serial almost-presidential candidate who repeatedly demanded that President Barack Obama produce proof that he was born in Hawaii, turned his attention to Senator Ted Cruz on Monday. In an interview with MyFoxNY, Trump said that Cruz's birthplace, Canada, could be a problem for the Texan's presidential bid.
"Well he's got, you know, a hurdle that nobody else seems to have at this moment," said Trump, who was born in Queens. "It's a hurdle and somebody could certainly look at it very seriously. He was born in Canada … if you know … and when we all studied our history lessons … you're supposed to be born in this country, so I just don't know how the courts would rule on it. But it's an additional hurdle that he has that no one else seems to have."
Unlike Trump, most legal scholars and media outlets that have considered whether Cruz's birthplace represents a "hurdle" to his presidential aspirations have concluded that it does not.
It's not the first time that Trump has questioned whether being born in Canada precludes the senator from running for president. In a 2013 interview with ABC's Jonathan Karl, Trump responded to the question of whether Cruz was eligible to run by saying, "Perhaps not." (The exchange comes at the 2 minute mark in the video.)
https://www.youtube.com/watch?v=ktrnqahlD0A
"Bottom line: Despite being born in Canada, Cruz can be considered a natural-born U.S. citizen," the Texas Tribune wrote. The term 'natural born' citizen also extends to a person who is entitled to U.S. citizenship, the Congressional Research Service says. Cruz's mother was an American citizen.
Trump also suggested that Cruz had borrowed some campaign language from him.
"Well, you know the line of 'Make America Great Again,' the phrase, that was mine I came up with about a year ago, and I kept using it and everybody's now using it, they're loving it, I don't know I guess I should copyright it," Trump said.
As to when Trump, who last month formed an exploratory committee to help him decide whether to hop into the 2016 presidential race, might hold his own campaign kickoff event, the Donald demurred.
"I'm looking at it very seriously," Trump said. "I get the biggest crowds and I get great response, so we're going to see. I'll decide sometime by June. "
Before it's here, it's on the Bloomberg Terminal.
LEARN MORE