Rand Paul: 'We Should Be Boycotting Saudi Arabia'
In New Hampshire, he escalates an attack on Hillary Clinton.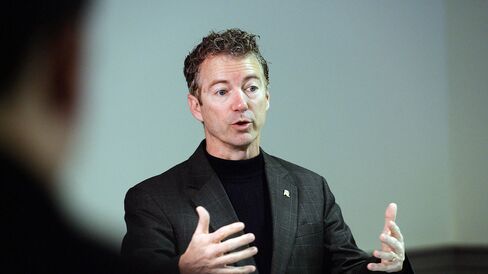 HAMPSTEAD, N.H.—In short remarks at the BeanTowne cafe on Saturday, surrounded by Republican voters and legislators, Kentucky Senator Rand Paul hyper-charged his attack on the Clinton Foundation's tens of millions of dollars in donations from foreign countries.
"Anybody here think it's a good idea for Hillary Clinton to be accepting money from Saudi Arabia?" Paul asked. "Anybody here think that she ought to send it back to Saudi Arabia?"
Cheers and cries of "hear, hear" rose out of the crowd as Paul argued that donations from "a regime that punishes women who are raped" effectively terminated Clinton's credibility as an advocate for women.
"This is something we should be organizing a boycott of," said Paul. "Do you remember how when South Africa was misbehaving, we organized a boycott of South Africa? We should be boycotting Saudi Arabia, not taking money from Saudi Arabia's government."
That went further than the remarks Paul made throughout the state, on Friday, from Manchester to North Conway to interviews with reporters. In North Conway, he recounted for more than 100 Republican donors and activists the stories of women who had been accused of adultery, then killed, after trials in sexist judicial system. "How could we possibly consider for the presidency a woman who's going to take money from Stone Age countries, then act as if she can somehow be objective, or be a champion for women's rights?" asked Paul.
Between those two speeches, in an interview with Bloomberg Politics, Paul actually (with some subtlety) compared the Clinton story to a story that dogged the 2008 presidential bid of his father, former Texas Representative Ron Paul. During the primary, the elder Paul received a $500 campaign donation from Don Black, who ran the white nationalist web site Stormfront. At the time, Ron Paul's spokesman, Jesse Benton, said the campaign would keep the money and spend it on a cause antithetical to Black's.
"If someone with small ideologies happens to contribute money to Ron, thinking he can influence Ron in any way, he's wasted his money," said Benton.
Today, Rand Paul obliquely referred to that story to insist that the media scrutinize where Clinton's money came from.
"Do you think the national media would accept someone who takes money from neo-Nazis, but says he's going to give it to somebody that means well?" he asked.
I told Paul that I remembered how the neo-Nazi donation to Ron Paul had been covered. He smiled.
"Yeah," he said. "She can't really have it both ways."
Before it's here, it's on the Bloomberg Terminal.
LEARN MORE