Ben Carson: Arm Ukraine, Expand NATO, Rethink Russia's Position on UN Security Council
The insurgent GOP presidential hopeful wonders if a Palestinian state could be carved out of Egypt.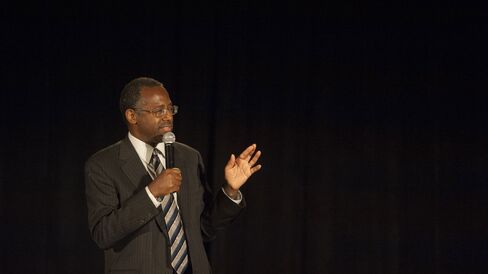 The headlines came down like acid rain all week.
Ben Carson Confused About Whether The Baltic States Are Part Of NATO
Ben Carson stumbles over questions about NATO, al Qaeda
Ben Carson Forgets Baltic States Are in NATO, Dates Islam to Before Christ in Flubbed Foreign Policy Interview
The 63-year old neurosurgeon, who recently launched an exploratory committee for a 2016 presidential bid, had called in for an interview with Hugh Hewitt. The California-based host, whose sharp, probing style got him a role in the GOP's upcoming presidential debates, used the interview to drill down on foreign policy. Carson slipped up, and said the "Baltic states" needed to "get involved in NATO," an alliance they belong to already. The previous week had seen Carson speculate about whether homosexuality was a choice, and get mocked on Saturday Night Live. This week, the media was browbeating him over foreign policy.
In a statement to Bloomberg Politics, Carson acknowledged that he was constantly boning up on foreign policy. "Although I have visited the Baltic Rim and over 57 other countries around the world," he said, "I am still in the stage of rapidly learning about the political dynamics of global politics." And in a short Friday interview, Carson said that he gets a weekly foreign policy briefing from "former military people, some people who worked in the State Department" and "a number of people" who send him advice on their own accord.
"I'm in the process of acquiring a lot of information," said Carson. "It's like being in medical school–you acquire a lot of information, you learn very quickly, you learn to process that information. The one thing I don't want to be lost on the American people is that leadership requires wisdom. You're going to have access to a lot of experts in a lot of areas. You don't want to devote all your attention to learning facts on a fact sheet."
Carson went on to explain his vision for a more robust, American-led alliance in eastern Europe. "My hope is that at some point people will start listening to the overall tenor of what's being said," he said. "The point I was trying to make is that the best way to stop Putin's expansionist ambitions is to ensure that all the former components of the Soviet Union are involved in NATO, and that we strengthen the relationships that NATO already has, so that he won't even be tempted to move into those regions."
Did Carson support George W. Bush's vision of adding Georgia and Ukraine to NATO? "I think it would have been a good idea," he said. "It's vitally important that whenever the principles for which NATO was set up are violated, that they act. That is crucial. That's the only way they remain a viable organization. And they really need our backing in order to do that."
Carson fully supported the idea of giving lethal weapons to Ukraine as it fended off Russian aggression. "Remember, Ukraine was a nuclear-armed nation," he said. "They got rid of their nuclear weapons with the understanding that we would back them up. The least we can do is keep that promise. We should be sending them what they need in order to maintain their sovereignty."
Did that risk sparking a larger war involving the United States, the NATO countries, and Russia? "It could spread into a wider war, but remember, Putin is right now being constrained fairly considerably by economic forces," said Carson. "The fact that the price of oil has gone down fairly significantly has been injurious to his ambitions. That's another part of global strategy: Trying to keep his economic situation woeful will restrain his ambitions."
Carson was ready to revisit much of the current strategic posture with Russia. The missile defense plan for Europe, which President Obama had scrapped, was "worthy of revisitation."
"We basically gave up the missile defense operation and got nothing for it," said Carson. "That's not how you negotiate. You need to make sure Poland and all those nations are in agreement with what you're doing. That's being a good ally."
And would Carson challenge Russia's status as a permanent member of the United Nations Security Council?
"I certainly think it's a question that needs to be examined," he said. "I don't think that just because you've been on the Security Council that you're entitled to stay there if you don't act responsibly. Certainly, it's something that should be up for discussion."
Carson, like other potential Republican candidates, was cheered by Israeli Prime Minister Benjamin Netanyahu's re-election this week, and thinking anew about how Palestinians could establish their own state.
"We need to look at fresh ideas," said Carson. "I don't have any problem with the Palestinians having a state, but does it need to be within the confines of Israeli territory? Is that necessary, or can you sort of slip that area down into Egypt? Right below Israel, they have some amount of territory, and it can be adjacent. They can benefit from the many agricultural advances that were made by Israel, because if you fly over that area, you can easily see the demarcation between Egypt and Israel, in terms of one being desert and one being verdant. Technology could transform that area. So why does it need to be in an area where there's going to be temptation for Hamas to continue firing missiles at relatively close range to Israel?"
Carson emphasized that he was happy to talk about foreign policy, and that he had no problem with Hewitt's role in one of the upcoming debates. What he perceived, and what he rejected, was a media tendency to nail candidates on trivia without appreciating their overall strategic knowledge.
"This one came to NATO in 1968, this one came in 1949–I mean, is that information important?" said Carson. "Of course it is. But it is probably not as crucial as determining what Putin's goals are, and how to stop them. Are we going to be able to get people to focus on the real issues, or are we going to continue with–Aha! You didn't know that. Aha! I got you! The problems that we face as a nation are so severe that if we continue to play these grade school games, rather than looking for fresh solutions to these problems, I'm afraid our future isn't going to be very bright."
Carson's entire statement on the NATO interview is below.
I admittedly have much to learn about many areas, including the finer points of geopolitics. Having been a neurosurgeon for the past thirty-odd years, I have understandably been deeply focused on the inner workings of the human brain. And so when it comes to politics, I am admittedly less experienced in the inner workings of all of the areas of foreign policy that a President will have to deal with.

However, my basic framework for foreign policy, especially with regards to Russian expansionism, is to deal with it head on and send a clear message to our NATO allies that we stand ready to defend them. Although I have visited the Baltic Rim and over 57 other countries around the world, I am still in the stage of rapidly learning about the political dynamics of global politics. I am just as passionate and engage in this process as I was about learning medicine, and expect to rely on subject matter experts to help me develop the necessary background in these situations.

I do not believe that you can have too much knowledge. I do however believe that wisdom is every bit as important as knowledge and perhaps even more important. Being able to listen to experts on foreign affairs and a variety of other subjects and utilize that information in the appropriate way is much more important than being able to regurgitate facts. I have known people who had an encyclopedic knowledge of medicine, but we're totally incapable of making wise medical decisions.

As a nation, the United States is moving in the wrong direction and we must be able to look at the big picture and understand what big moves need to be made to correct our course. I am doing all that I can to acquire more knowledge and to surround myself with experts in lots of different areas, because the stakes are too high to depend on the knowledge of any single individual.
Before it's here, it's on the Bloomberg Terminal.
LEARN MORE