Who Made the Grade at the Iowa Ag Summit?
Bloomberg Politics' Mark Halperin breaks down the substance, style, and overall impact for prospective Republican candidates at the Iowa Ag Summit.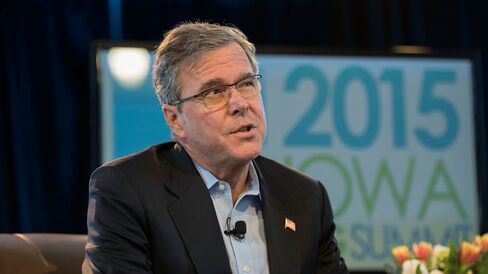 As cattle calls go, the Iowa Ag Summit is more serial policy chats than red-meat speeches. Convened for the first time this year by Iowa agriculture businessman Bruce Rastetter, the event attracted almost every major potential Republican presidential candidate.
The audience and the scores of Iowa and national political reporters in attendance listened to see how, under Rastetter's genial questioning, the hopefuls addressed in detail a broad range of agricultural issues.
Grades are based on a combination of factors, including style, substance, audience reaction, and consequence—if the overall performance allows a contender to leave the event stronger or weaker than before.

Style: Wisely directed his responses to the audience as well as to Rastetter. Leaned forward with an easy manner, with less of the eager-to-please jangling he showed at CPAC. Mentioned his plans to go to the supermarket after church on Sunday to make a point about food labeling. Used phrases like "it's a big dang deal" and "a pig in slop."
Substance: Hedged, as expected, on the Renewable Fuel Standard, praising the program but suggesting that an eventual phase-out makes sense. Soft-pedaled his immigration stance. Didn't try to make news.
Best moment: A calm, reasoned critique of President Obama and Washington that simultaneously showed off his red meat sensibilities and deliberate gentlemanliness.
Worst moment: Solid throughout.
Overall: Flaunted the upside of being a Bush–looked and acted like a guy ready to be president, which helps separate him from the field. Showed he could take on a wide array of questions with an even tone and good humor. A strong Iowa cattle call debut that made him seem like an old pro, tempered by the fact that his low-key manner (per usual) didn't blow the room away.

Style: Conversational, assured, and fluid, further demonstrating his range. Stayed with his good-luck Iowa shirtsleeves.
Substance: Never out of his league in responding on point, but almost entirely descriptive rather than prescriptive.
Best moment: Referenced "Hee Haw" with perfect pitch.
Worst moment: Solid throughout.
Overall: Didn't seem the least bit daunted speaking at the end of a long day. Solidified his hold (for now) on establishment Iowans who don't want another Bush, without alienating support from the party's other wings. Living the Haley Barbour adage: in politics, good gets better. And also a corollary: confidence begets more confidence. Came into the Ag Summit as the Iowa leader and with the most national momentum; leaves having accelerated both.

Style: Confident and grounded, while pushing himself not to seem too been-there-done-that. Leaned forward energetically.
Substance: Strong on health-care policy detail. Talked in generalities about economic growth and energy.
Best moment: A riff on improving the quality of life of the American worker was succinct, passionate, and winning.
Worst moment: Like many other prospects, struck out on immigration.
Overall: Was at his most presidential and most pleasant. Reminded those who observed his 2012 success: When he is on, he can appeal to Iowans on many levels–but inconsistency has been his enemy.

Style: Calm and serious throughout. Gave crowd-pleasing answers on energy and taxes. Used every available opportunity to denounce President Obama. Handled a heckler with a slightly lighter touch than he sometimes does at home, with humor and unruffled firmness.
Substance: Knew how to present answers that would punch the right Iowa buttons, and never seemed in over his head, but didn't put forward any specific, original policies.
Best moment: Denounced "power grabs from Washington, D.C." on environmental issues to great applause.
Worst moment: Closing remarks were relatively strong, yet neither rousing nor memorable—a missed opportunity.
Overall: Focused on selling his long-running main rhetorical national calling card: Criticizing President Obama for being a weak leader who can't create consensus on comprehensive solutions to America's problems, thus sowing confusion and uncertainty in the private sector. His advisers say that his earthy Jersey style will play well in the Hawkeye State and promise that as Iowans get to know him, his high unfavorables will go down. Rastetter and the format let Christie be Christie, so he got a chance to put the plan in motion.

Style: Displayed a good feel for the room, calibrating his tenor and tone throughout like a pro. Did a semi-Sister Souljah move in opposing the Renewable Fuel Standard. Continued his efforts, if sometimes forced, to compete with Marco Rubio on being sunny and optimistic.
Substance: Way more about critiquing and criticizing Washington than presenting specific ideas, but certainly didn't seem over his head on any topic.
Best moment: Extended explanation of opposition to Cuba trade liberation turned into a muscular and spirited critique of Obama foreign policy.
Worst moment: A story about a football player was as anti-climactic as it was poorly told.
Overall: Starting to perhaps oversell his DC record, and even—egads!—sometimes sounding like Bob Dole with Senate-speak. Q&A regime drained him of his capacity to be Mr. Energy, but he showed surprising fluidity with both topic and format. Confidence still becomes him.

Style: Spoke at a perfect speed and level for the event. Went on surprisingly long anti-goofy runs punctuated—naturally—by charmingly goofy jags. Supplied a pleasantly mature and amiable presence.
Substance: Strong rhetoric on immigration and government spending, with some (unoriginal) specifics, but admittedly not as proficient on issues more directly impacting farms.
Best moment: Folksy and urgent challenge to the country and the party to deal with entitlement reform for the next generation.
Worst moment: A joke about being king that reflected an utter lack of feel for what Iowa Republicans find funny.
Overall: Seemed to enjoy being on the stage as part of his first cattle call after spending years watching from the front row or the wings. Took the process seriously enough to act more deliberative and focused than usual. Still unlikely to catch fire in Iowa, but showed why his presence in the race would impact everyone's calculations about South Carolina and foreign policy.

Style: Flouted and touted his ag background from the get-go. Still a bit stiff—not displaying the sharp and appealing suburban-dad-next-door demeanor he has in private, even alongside the low-key Rastetter.
Substance: Sounded like the solid, delegating, big-picture governor that he was for years, but failed to fully leverage what is the deepest ag background in the field to separate himself on policy.
Best moment: Crowd loved his anti-Obama diatribe on immigration.
Worst moment: In his conclusion, talked about American economic revival in a manner more rote than inspirational.
Overall: The format teased out more of his attractive conversational side, but still overly intense, low on humor or relatability. Made at least a dent in replacing his "oops" image with that of a strong, competent leader, but the challenge remains.

Style: Folksy while still sounding the notes of a former governor, with a mellow energy level throughout. Verged at times into being overly serious; seemed a tad less confident than his usual favorite-visiting-Iowan-son vibe.
Substance: Made about as strong a defense as possible of the Renewable Fuel Standard as a matter of national security and independence. Mostly, played low-key defense and looked to avoid errors rather than trying to push specific ideas.
Best moment: Cast himself as a happy warrior and a semi-fiery populist all in one answer, attempting to reclaim the niche that made him the 2008 caucus champion.
Worst moment: Hedged on wind tax credit in a mess of a rambling answer.
Overall: Second at bat among the presidential hopefuls, he was undoubtedly solid, but didn't seem to wow the crowd despite his attempts at low-key dazzle reminiscent of the tone of his radio and TV personae. If he is going to be the nominee, he needs to be an Iowa powerhouse; if he is going to be an Iowa powerhouse, at some point he needs some breakthrough moments. He didn't get a breakthrough moment here.

Style: Eager to show how much he knows about ag, leading him to sometimes sound defiant and to talk too fast. Sat forward and used his hands a lot. Did not sufficiently show off his wry sense of humor.
Substance: Demonstrated his underrated and broad knowledge of domestic policy, but with a focus on analysis and history rather than solutions.
Best moment: Leveraged his ownership of a farm, and intimate knowledge of its workings, to talk about employment issues in a way that surely appealed to some farmers in the room.
Worst moment: Made a hash of his illegal immigration stance by talking in circles and ending up ... it is hard to know where.
Overall: Wants to be a big-time player who emerges with a splash, but it is unclear if there is a market in the Republican electorate for his product. Didn't fully brew his populist anti-Washington rhetorical potion. Still hard to see fundraising or ideological space for him as long as Bush thrives.
Before it's here, it's on the Bloomberg Terminal.
LEARN MORE