Jeb Bush, Confronted by DREAMer, Compares Obama Orders to Decrees of 'Latin American Dictator'
The former governor responds in Spanish to questions about his position on the president's immigration orders.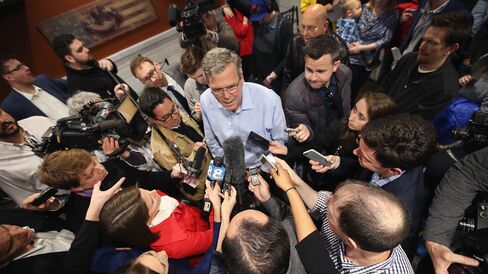 Jeb Bush joined the elite, uncomfortable club of possible Republican presidential candidates confronted by immigration reform supporters who want legal recognition for the undocumented.
During a private event on Saturday in Iowa, the former Florida governor was asked, in Spanish, about President Barack Obama's executive actions; in Spanish, he explained that he supported a path to citizenship for "DREAMers" but that it should be created by law rather than by decree, "because that's like a Latin American dictator."
When reporters asked Bush later to clarify if he would repeal immigration-related executive actions such as Deferred Action for Childhood Arrivals or Deferred Action for Parents of Americans and Lawful Permanent Residents before a law could be passed, the former Florida governor sidestepped the question.
"We need to change the law," he said.
"That's exactly what I said this afternoon," Bush said. "We need to do this by law, not by executive order."
Bush, 62, supports easing immigration laws and has said he'd like to provide law-abiding undocumented workers with a path to legalization. His position conflicts with many in the party's conservative base, whose opposition doomed a comprehensive immigration bill after it passed the Senate with bipartisan support in 2013.
Bush has sought to portray his position as being aligned with conservative principles, arguing that welcoming more immigration would spark economic growth. "I think we need to fix this broken immigration system,'' Bush said Saturday morning at the Iowa Ag Summit in Des Moines. "Immigrants that are here need to have a path to legalized status.''
After the summit, Bush met privately with activists at a barbecue restaurant in Waukee. The people who confronted the governor were among the first in the door. A Spanish speaker translated the exchange and shared the transcript with Bloomberg Politics.
DREAMER: Will it be your priority to end DACA and DAPA?

BUSH: End what?

DREAMER: End DACA and DAPA.

BUSH: DACA? What is...

DREAMER: You said you would stop the president's overreach. Are you referring to DACA and DAPA?

BUSH: (inaudible) We need to pass it as a law. (inaudible)

DREAMER: OK, so you have plans to end DACA and DAPA? To do away with those programs?

BUSH: DACA is for... the program for the DREAMers. No. Let's give them priority to be citizens. But by the law, not by decree, because that's like a Latin American dictator.

DREAMER: Yes but will you take away the programs? So for a person like me, who qualifies for DACA, you are going to take away all our opportunities?

BUSH: No. what I am saying is, I wrote a book...

DREAMER: Yes, but recently you said you were going to do away with that program, DACA.

BUSH: Exactly, and pass a law so there's permanence. What DACA does is it's only for two years, no more. The problem continues after that.
Before it's here, it's on the Bloomberg Terminal.
LEARN MORE