Koch Industries Hires Private Equity Communicator Ken Spain
The spokesman for the private equity industry's lobbying group is well-suited to craft a new story for the brothers ahead of 2016.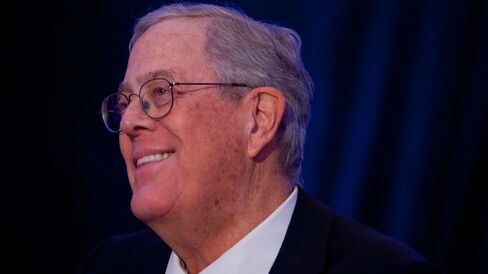 Koch Industries went looking for someone who knows what it means to speak for a business in the political limelight—and found their man defending Steve Schwarzman and Henry Kravis in Washington.
Ken Spain, the chief spokesman for the Private Equity Growth Capital Council—the industry's lobbying group—will join Koch as a D.C.-based managing director for external relations, just in time for the run-up to the 2016 presidential election, the firm announced Wednesday.
Spain's well-prepared to craft a new story for the wealthy and politically active Kochs, having navigated private equity through the 2012 campaign. Former buyout tycoon and Republican nominee Mitt Romney brought unprecedented scrutiny to the long-secretive buyout industry as reporters, Democrats, and even rival Republicans characterized Romney as a job-slashing robber baron. As Romney fumbled to release and defend his tax returns and explain his business record, Spain was on point to answer questions about the amazing riches of private equity's practitioners, as well as their hotly debated tax treatment.
During Spain's tenure, the group dramatically expanded its membership—from the eight megafirms that comprised the original Private Equity Council in 2007 to 35 firms across the U.S, plus associated law and accounting firms. Spain and PEGCC head Steve Judge recast the private equity industry in terms of economic impact, collecting and presenting data down to the congressional district level. Spain pushed the industry into both traditional and social media and produced a video series called "Private Equity at Work" in the midst of the 2012 campaign.
The group has so far helped stave off changes that would increase taxes paid on PE profit, known as carried interest, by considering it ordinary income rather than capital gains.
Spain also understands the type of sprawling corporate influence Koch boasts, with holdings spanning fibers to fertilizer. Private equity firms collectively manage more than $3 trillion in assets and own companies from J. Crew to Toys R Us; part of his remit in private equity was to analyze and communicate the scope of the firms' holdings, especially on Capitol Hill.
Spain's a GOP veteran; prior to joining the PEGCC four years ago, he was the communications director for the National Republican Congressional Committee. Joining the PEGCC reunited Spain with Ken Mehlman, the former Republican National Committee chairman who's now the public affairs chief and a partner at KKR & Co. Mehlman's also the chairman of the PEGCC.
"Ken Spain has been a tremendous asset to the PEGCC, just as he was at the NRCC and will be at Koch Industries," Mehlman said in an e-mail. "No one works harder, focuses more on results, is more creative in their thinking, and worries less about credit."
While no stranger to billionaires—Blackstone co-founder and chairman Schwarzman is worth $11.9 billion, according to the Bloomberg Billionaires Index—Spain's clearly trading up. Charles and David Koch rank as the fifth- and sixth-richest in the world, with a combined net worth of $100 billion.
Before it's here, it's on the Bloomberg Terminal.
LEARN MORE