Rice Says U.S. Will Block Iran, Won't Back Away From Israel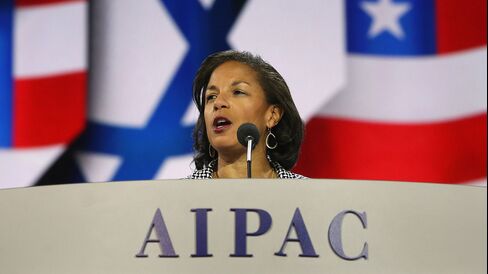 President Barack Obama's national security adviser said the U.S. won't waver in assuring Israel's security and that negotiations under way with Iran are the best way to make sure the Islamic Republic doesn't get a nuclear weapon.
Susan Rice, speaking to a pro-Israel group in Washington, sought to reassure Israelis and their supporters in the U.S. that the administration will refuse any agreement that would let Iran advance its nuclear program. She said the U.S. approach holds the most promise.
"There is simply no alternative that prevents Iran from obtaining a nuclear weapon better or longer than the type of deal we seek," Rice said Monday in Washington at the American Israel Public Affairs Committee's annual conference.
"Sound bites won't stop Iran from getting a nuclear weapon," she said in a slap at some of Obama's critics in Congress who are urging new, unilateral sanctions on Iran before talks are finished. "Strong diplomacy, backed by pressure, can."
Rice and UN Ambassador Samantha Power spoke to the group Monday at a time of heightened tension between the U.S. and Israel over blunting the threat from Iran as world powers work on an agreement to limit its nuclear program. Israeli Prime Minister Benjamin Netanyahu addressed the conference earlier Monday, saying a deal with Iran "could threaten the survival of Israel."
Growing Tension
The Obama administration dispatched Rice and Power to the conference to ease growing tensions between the U.S. and Israel over the Iran deal and Netanyahu's acceptance of an invitation to address Congress without consulting the White House.
In an interview with Reuters on Monday, Obama said the rift with Netanyahu is only a temporary distraction and won't cause permanent damage to the U.S.-Israel relationship.
"This is not a personal issue," Obama said. "I think that it is important for every country in its relationship with the United States to recognize that the U.S. has a process of making policy."
He said Netanyahu has "made all sorts of claim" about the pitfalls of the negotiations that haven't come to pass.
Backing Israel
Rice and Power said the U.S. will never back away from its support for Israel's security and won't accept a nuclear-armed Iran.
"The bottom line is simple: We have Israel's back, come hell or high water," Rice said.
She said the sanctions imposed have brought Iran to the table and pushed the Islamic Republic further away from gaining a nuclear weapon than it was a year ago.
Rice defined the parameters of any deal as one what would "verifiably cut off every pathway" for Iran to produce enough fissile material for a single nuclear weapon and require frequent inspections.
The U.S. wants Iran's nuclear program, which it says is for research and electricity generation, to be frozen in place for at least a decade, she said. "We are not taking anything on trust," she said.
Preventing Iran from having any domestic uranium enrichment program -- a process that can help produce energy or, at higher levers, lead to bomb material -- is unrealistic, she said.
"We cannot let a totally unachievable ideal stand in the way of a good deal," Rice said.
Fallback Position
If negotiations fall apart or Iran undermines any agreement, new and tougher sanctions can be imposed, she said.
"I want to be very clear: A bad deal is worse than no deal," Rice said. "And if that is the choice, there will be no deal."
During her speech earlier Monday, Power said the U.S. understood Israel's concerns.
"We know the stakes of a nuclear-armed Iran as well as everyone here," she said. "We will not let it happen."
Signs of the frayed relationship between the two nations were evident throughout the day of speeches and statements.
Power, who spoke just minutes before Netanyahu during a morning session, did not talk to him face-to-face at the conference, according to White House press secretary Josh Earnest. Obama and his senior officials have decided against meeting with Netanyahu, who faces an election in two weeks, to "avoid even the appearance of interfering in a democratic election in another country," Earnest said.
Congress Speech
Netanyahu is scheduled to speak to Congress on Tuesday. He said the purpose of that speech is to warn U.S. lawmakers about the threat posed by a deal with Iran. Both Republicans and Democrats have expressed concerns over the negotiations with Iran, introducing legislation to give Congress more input in any potential deal and imposing more sanctions.
The Obama administration has pledged to veto such legislation as the talks reach their final stages.
At least 30 Democrats in Congress have said they will skip Netanyahu's speech, which was arranged by House Speaker John Boehner, an Ohio Republican. The Obama administration has said that invitation and Netanyahu's acceptance was a breach of protocol.
Before it's here, it's on the Bloomberg Terminal.
LEARN MORE