At Netanyahu's Speech, Scenes from the Amen Corner
For Pat Boone, Joe Lieberman, Newt Gingrich, and Sheldon Adelson, the address to the joint session more than lived up to its billing.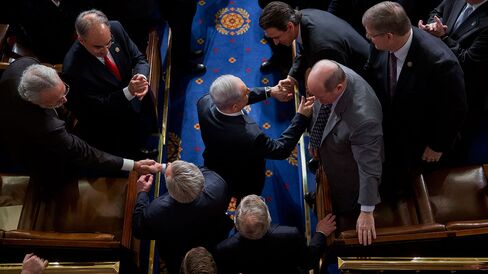 "This is like the speech of the century, man!" said Michael Goldfarb. "It's all happening!"
Goldfarb, a co-founder of the Washington Free Beacon and a strategist for the Emergency Committee for Israel, was navigating the Capitol hallways outside the floor of the House of Representatives. Shortly before 11 a.m., he and hundreds of supporters of the state of Israel would fill the galleries for Prime Minister Benjamin Netanyahu's third speech to Congress. Their number included a Nobel Prize winner, Elie Wiesel; one of the most powerful donors in the Republican Party, Sheldon Adelson; a former speaker of the House, Newt Gingrich; and a former nominee for vice president, Joe Lieberman.
They were all waiting to cram through a door. As they stood, pollster Frank Luntz stood near a door, asking "whether they thought the speech was a good idea" before he took his own seat.
"I was offered $1,000 for my ticket," said Luntz. "Cash!"
Not far away, Lieberman was standing behind John Hagee, the megachurch pastor who founded Christians United for Israel. Hagee was deep in conversation with Rabbi Shmuley Boteach, a celebrity religious scholar and one-time candidate for Congress, who had just escaped a two-day media storm over an ad he ran critical of National Security Advisor Susan Rice.
Hagee, naturally, was quoting from the Book of Deuteronomy. "Be bold, be brave," he said. "Don't be afraid and don't be scared by your enemies, because the Lord your God is the one who marches with you."
Hagee and his wife were guests of "the Adelsons," and would be seated just behind them in one of the gallery's best rows. "The truth is that these are the greatest Christian friends of the Jewish people in the world," said Boteach, pointing to Hagee and his wife.
What would the dozens of Democrats skipping the speech be missing? "I think they're going to miss a great show," said Boteach. "There's been such a build-up to this speech, but the prime minister's a great orator. When there's this much build-up, the Super Bowl better be electrifying. Of course, it's not a game—it's very serious. What I think the speech is going to do is create a national debate about Iran. Up until now, the debate is about the speech. After today, you can't debate that any more—what happened, happened."
The guests were ushered in. As expected, a large swath of seats typically reserved for Democrats were empty; they were quickly filled by diplomats, who did an immaculate impression of their hosts, sitting and not applauding. Former Representative Dennis Kucinich, a Democrat who ran two "peace campaigns" for president, mingled with his old colleagues. Former Representative Joe Scarborough, who's long been a host at MSNBC, did the same with Republicans. When the speech began, the audience on the floor and in the galleries showered Netanyahu with applause and cheers. The prime minister stoked them, looking back to the galleries and waving.
The speech itself, which was given unprecedented levels of attention after the dispute over how it happened, was a slow build. Netanyahu opened with praise for the Obama administration, bringing almost every person in the room to their feet. Halfway into the speech, he got to the point that had made Democrats nervous and thrilled the sort of people angling for tickets.
"My friends, for over a year, we've been told that no deal is better than a bad deal," said Netanyahu. "Well, this is a bad deal. It's a very bad deal. We're better off without it."
Very few Democrats applauded that line; those who did, like Arizona Representative Krysten Sinema and West Virginia Senator Joe Manchin, had to win over conservative voters.
"We're being told that the only alternative to this bad deal is war," said Netanyahu. "That's just not true. The alternative to this bad deal is a much better deal."
It was another divisive line, but not for anyone who had angled for tickets to the speech. The only angst from the galleries came when Sheldon Adelson's wife, Miriam, positioned right over the floor, accidentally dropped her purse. Netanyahu's momentum didn't break, not even after Nebraska Democratic Representative Brad Ashford felt the bag hit his foot.
"I wish I'd opened the purse," joked Ashford to reporter Joe Morton. "Do you think she carries cash?"
The speech drew to a close after Netanyahu singled out Wiesel for applause. The guests made their languid ways out of the chamber. Hagee had been moved by what he heard.
"I think this was America's opportunity to have a Churchill moment," said the pastor. I think the prime minister made the case that it's not possible for Iran to have the nuclear bomb without the security of the world being threatened. As he clearly said, Israel is not going to allow a tyrant to annihilate its people."
Lieberman, who kept getting interrupted by supporters, left the speech paraphrasing Netanyahu's lines. "The alternative to a bad deal is not war," said Lieberman. "The alternative to a bad deal is a better deal. If it means the Iranians step away from the table for a while, too bad—they'll come back. It was important he said that."
Lieberman, who served a final 2007-2013 Senate term as an independent after being defeated in a Democratic primary, did not forsee the debate over the speech lasting past the event itself. "This Congress is going to unite around the Corker-Menendez legislation," he said, "that if there is a deal gives Congress the opportunity to review it and maybe reject some of it."
Boteach, Adelson, and other honored guests headed from the galleries down to a reception with members of Congress and the prime minister. Boteach had scored an accidental coup—he'd been seated right in front of "three women who said they were from the Sunburn Foundation, or something," whom he'd recognized as protesters. One had protested at Netanyahu's last speech to Congress, which Boteach also attended.
"Isn't that amazing?" asked Boteach, who'd gotten the women removed. "No one denies that President Obama wants to stop Iran from getting a nuclear weapon. I think the prime minister made a strong case about why they shouldn't be trusted."
Headed the other way, away from the reception, was Kucinich. He'd filled part of a legal pad with notes from the speech. "I wanted to hear what Netanyahu had to say," he explained, by way of saying why he was in a speech that some peace activists were protesting. "We need to talk to each other, just as we need to talk to Iran. Unfortunately, there was no substantive evaluation that could assist Congress in its deliberation. That's what I was hoping for."
Back toward the reception, guests were figuring out when or whether they could enter. Pat Boone, the evangelical Christian singer, stood to the side of a rope line clad in a bright blue blazer and a blue tie emblazoned with tiny Israeli flags. He'd hoped to be recognized by Netanyahu—"I've known him for years"—as an evangelical friend of Israel, but the prime minister "wasn't moved to do so." That wasn't a problem.
"I was reading Leviticus on the plane," said Boone. "I hadn't noticed this before, but amongst all Moses's instructions to the people of Israel was that to stand idle when a neighbor is threatened is a sin."
Was the Obama administration committing a sin? "No, they are doing some things they're almost obligated to do," said Boone. "But President Obama, unfortunately—it's not his fault—was educated by his father, stepfather, and Frank Marshall Davis, to believe that America was a colonialist oppressor, not worthy of leadership in the world."
Boone paused, as Ohio Governor John Kasich moved toward the reception. They shook hands right before Kasich went in, as reporters waited for members to leave, and as AIPAC lobbyists wearing their conference badges called home to describe what they'd seen.
Before it's here, it's on the Bloomberg Terminal.
LEARN MORE