Santorum: 'We Don't Need a Weatherman-in-Chief'
He hints to conservatives that he might be the right person to be a wartime president.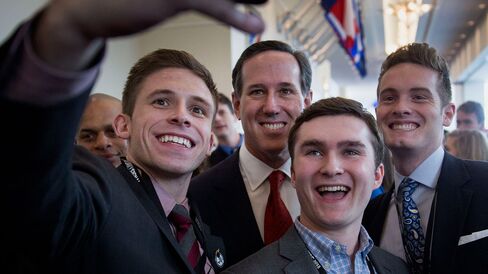 Former Senator Rick Santorum hinted to conservatives Friday that he might be the right person to be a wartime president, casting himself an authority on foreign policy who would take office prepared to fight the Islamic State and other threats.
President Barack Obama has called climate change the top U.S. national security challenge, but "we don't need a weatherman-in-chief," the Pennsylvania Republican told the Conservative Political Action Conference in National Harbor, Md. "We need a commander-in-chief to run this country."
To start, he'd want to put 10,000 troops on the ground to fight the Islamic State, he said. "If ISIS wants to establish a seventh century caliphate, let's do that by bombing them back to the seventh century."
Santorum recalled a recent meeting with Israeli Prime Minister Benjamin Netanyahu, who told him that the United States must elect a "wartime president" in 2016. "Commander-in-chief is not an entry-level position ... and the Oval Office is no place for on the job training," he said, suggesting that his eight years on the Senate Foreign Relations Committee would put him on a strong footing.
Santorum reminded the crowd, visibly thinned after Senator Rand Paul's speech to a packed house, of his warnings nearly a decade ago about the threats of Al Qaeda and Islamic extremists more broadly. While some called him Chicken Little, the passage of time has shown him to be correct, he said.
The 2012 presidential candidate spent about 15 minutes on stage for a speech and a few audience questions, and spent much of that time looking back, recalling his time on the campaign trail and his years in the Senate.
"In 2012 I wasn't for Common Core … and today I'm still not for Common Core," he said in a veiled jab at former Florida Governor Jeb Bush.
While pundits posited that he did well in Iowa and a few other states "because I was simply the last man standing," Santorum said that his wins came because he stands for "the little guy, the American worker."
"And," he added, "if we're going to win in 2016, we need to stand for the little guy too."
Before it's here, it's on the Bloomberg Terminal.
LEARN MORE