Obama Presses Democrats on Trade After Battling Republicans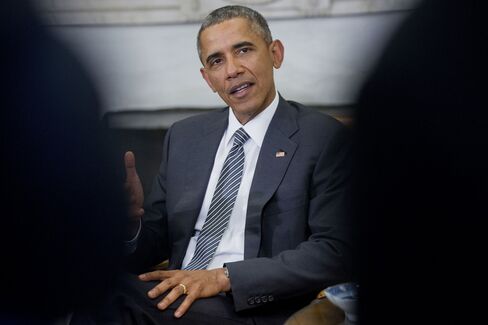 President Barack Obama is moving from battling with Republicans on immigration to cajoling Democrats on trade.
With negotiations on the 12-nation Trans-Pacific Partnership nearly complete, Obama is accelerating a campaign for votes in Congress to ease the way for trade agreements, putting him at odds with allies, including Senate Democratic leader Harry Reid and Massachusetts Senator Elizabeth Warren.
The administration Thursday released figures on the benefits of trade in each state, highlighted initiatives to expand international commerce for rural areas and lined up interviews with the president for local television stations in North Dakota, Missouri, Oregon and Washington.
"The president is in his sunset years of the administration, and he's got a lot of things left on his to-do list," said Adam Hersh, senior economist at the Center for American Progress, a Washington-based policy group that's aligned with Democrats.
Obama's policy goals in the final two years of his term include wrapping up a trade deal with Pacific Rim countries that represent 40 percent of the global economy and moving forward with a separate accord with the European Union.
Lobbying Congress
That's meant lobbying members of Congress at the White House, enlisting the help of business groups and direct outreach to voters.
"This is a major priority for the administration," Cecilia Munoz, director of Obama's Domestic Policy Council, said in a conference call Thursday with reporters. "The goal here is to make sure that this is a well-informed debate."
The administration released data saying exports supported about 11.3 million jobs in the U.S. and in 2014 the U.S. hit a record of $2.35 trillion in exports.
Among the television stations getting Obama interviews Thursday is KGW in Portland, Oregon, the biggest city in the home state of Senator Ron Wyden, a Democrat.
Wyden has been working with Senate Finance Committee Chairman Orrin Hatch, a Utah Republican, on legislation to give Obama the ability to negotiate free-trade accords and have those agreements subject to a yes-or-no vote by Congress without amendments, known as trade promotion authority. Obama has said the authority is crucial to getting other nations to sign on to deals.
"If he could pass TPA by doing the Harlem Shake, he'd be out doing the Harlem Shake right now," Hersh said of Obama.
Wyden Pressure
Wyden, up for re-election in 2016, is being pressured by other Democrats on the trade issue. Democracy for America, a group founded by former Democratic presidential candidate Howard Dean, sent an e-mail Thursday to 25,000 supporters in Oregon suggesting that Wyden, who's in his fourth term, should be challenged in the Democratic primary if he supports a trade deal.
In the interview with KGW, Obama lauded Wyden for working on an approach "that is going to ensure tough labor standards, tough environmental standards."
Warren has emerged as a leader among the faction of Democrats opposing the Pacific Rim trade deal. An opinion article she wrote in Thursday's Washington Post prompted White House National Economic Council Director Jeff Zients to write a defense on the White House website.
Warren's Objections
Warren said in an interview that some provisions in the Trans Pacific Partnership "have the potential to profoundly change regulatory systems round the world" that would end up "giving multinational corporations powers that are unmatched by any other group."
A group of Obama senior advisers led by Zients meets weekly to plan ways to bring recalcitrant Republicans and moderate Democrats on board.
Obama is seeking authority, also known as fast track, so that U.S. Trade Representative Michael Froman can finish negotiations on the Trans-Pacific Partnership. The agreement contains rules on trade in services, intellectual property and international data flows. Froman has said he hopes to close out the talks in the next few months.
A separate negotiation with the 28-nation European Union is on a much slower timetable.
China's Role
Obama is framing his trade goals as the U.S. versus China, where per-capita gross domestic product is growing at more than 7 percent a year compared with 1.5 percent in the U.S.
"China wants to write the rules for the world's fastest-growing region," Obama said in his Jan. 20 State of the Union speech. "We should write those rules. We should level the playing field. That's why I'm asking both parties to give me trade promotion authority to protect American workers, with strong new trade deals from Asia to Europe that aren't just free, but fair."
He's singled out trade as one of the areas where he and congressional Republicans, who have opposed Obama on many of his initiatives, should be able to agree. Senate Majority Leader Mitch McConnell, a Kentucky Republican, also has cited trade as an issue where Republicans can work with the White House.
Obama is pressuring Democrats at the same time he's engaged in a political fight with Republicans over his action to temporarily defer deportations for about 5 million undocumented immigrants. Republicans have been debating ways to block Obama through legislation, including threatening to hold up funding for the Homeland Security Department.
State Strategy
The White House trade strategy is to gain support in states of key lawmakers. Last week, Obama advisers told reporters on a conference call about trade benefits specific to Minnesota. The state's two senators are Al Franken and Amy Klobuchar, both Democrats. Franken in January led a letter sent to Reid, of Nevada, about opposition to fast-track authority, saying he has "deep concern" about renewing it. Klobuchar has signed letters asking for currency manipulation and labor protections to be addressed.
"The administration has been in a full court press since State of the Union and everyone has rolled out to build support," Hersh said "I think that's going to continue."
Before it's here, it's on the Bloomberg Terminal.
LEARN MORE