John Boehner Scolds House Members on Dress Code, Decorum
The House Speaker voiced his displeasure with the state of behavior in the chamber.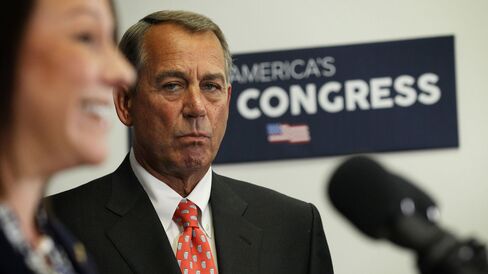 Speaker John Boehner Wednesday dressed down his House colleagues for their behavior on the House floor—including reminding them to dress in appropriate business attire, refrain from taking photos and videos during proceedings, and even showing up to vote on time.
Boehner, in an unusual lecture from the House rostrum, did not point a finger at any specific colleague for breaches these principles.
But as for inappropriate attire, he said, "You know who you are," prompting some laughter from members.
A spokesman for the Ohioan did not respond to a request to what specifically prompted the lecture to House members.
In his remarks, Boehner said that he "wishes to reiterate reiterate the announcement of March 25, 2014 concerning floor practice."
"Members should periodically rededicate themselves to the core principles of proper parliamentary practice that are so essential at maintaining order and deliberacy here in the House," said Boehner.
He called on colleagues to "refrain from trafficking in the well (of the chamber) when another -- including the presiding officer -- is addressing the House."
Also, he said,"Members should wear appropriate business attire during all sittings of the House, however brief their appearance of the floor may be."
And along with telling House members should refrain from engaging in still photography or audio or video recording in the chamber (which he said detract from the official proceedings) Boehner chided some for being late for votes.
"Members should attempt to come to the floor within the 15 minutes as prescribed within the ringing of the bell," he said, adding "this has been an ongoing problem."
Before it's here, it's on the Bloomberg Terminal.
LEARN MORE