Thanks to Frank Zappa, Jeb Bush Has Just One Wedding Photo
Marvin Bush was supposed to shoot his brother's wedding, but selected a roll he'd already used at a Frank Zappa concert.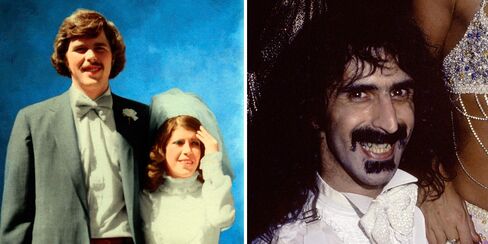 Good wedding photographers are hard to find.
Jeb Bush shared the only existing photograph from his 1974 wedding to Columba on his Facebook page on Monday, which includes a very '70s backstory.
"Happy anniversary to my beautiful wife of 41 years, Columba," Bush wrote in his post. "True story: This is the only picture from our wedding. The photographer, my brother Marvin, accidentally rerolled from a Frank Zappa concert. Thankfully, my mom took one photo with a Kodak."
https://www.facebook.com/jebbush/photos/a.298834276912289.1073741825.210257445769973/657500104379036/?type=1
Marvin Bush, who went on to become a director of HCC Insurance Holdings, was apparently a Zappa fan during the Frank's wilder years. Here's a clip from a 1974 concert of Zappa performing the songs "Aproximate" and "Cosmik Debris." Unfortunately, Bush's photographs of both the concert and the wedding no longer survive.
https://www.youtube.com/watch?v=wxdDKaLUhGc
We can still thank Barbara, Bush's mother of invention, for snapping the one remaining shot of her son's big day.
Before it's here, it's on the Bloomberg Terminal.
LEARN MORE