Wolfowitz, Jeb Bush Foreign Policy Adviser, Plays Up Reagan Influence
The Reagan (and Bush I and Bush II) alum says there is a "wide range of views" on Jeb's team.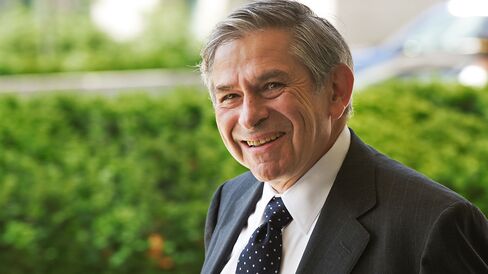 Paul Wolfowitz, who is advising former Florida Governor Jeb Bush as a foreign-policy expert, is seeking to deflect criticism that Bush is overly influenced by figures from his father and brother's administrations by pointing out many Bush advisers' ties to former President Ronald Reagan.
In an interview airing Sunday on CNN's State of the Union, host Gloria Borger asked Wolfowitz how Bush could "be seen as his own man when the people who are advising him promoted a foreign policy that in retrospect has largely been regarded as flawed and unpopular."
"You're painting [with] an awfully broad brush there," said Wolfowitz, who served as deputy defense secretary under George W. Bush and also worked under the senior Bush and Reagan. "A lot of people in that group, and actually including myself, who participated in the Reagan administration, which I think was a very successful foreign policy: Secretary [George] Shultz, Secretary [James] Baker—there's a pretty wide range of views there but in any case he is his own man."
"I think he demonstrated that quite clearly in the question-and-answer session after his speech [in Chicago last week] where he obviously was very comfortable answering a whole range of questions," Wolfowitz added. "I think he demonstrated that he knows this subject. He doesn't need a lot of coaching."
A Washington Post graphic published last week illustrated the overlap in the Bushes' foreign-policy circles. A Jeb Bush aide provided the list as the ex-governor takes steps toward a White House bid and seeks to cut his own profile on world affairs without rejecting his family history outright. "I love my father and my brother...but I am my own man," he said in the Chicago speech.
Five of his foreign-policy advisers worked with Reagan, six worked with his father, and 17 worked with his brother, according to the Post. The lone fresh face: Former Florida Representative Lincoln Diaz-Balart.
https://twitter.com/pbump/status/568062275497672704
Before it's here, it's on the Bloomberg Terminal.
LEARN MORE