2016 Fever 'A Distraction,' Hickenlooper Says of Governors Meeting
At a gathering of governors, the next presidency is a major focus.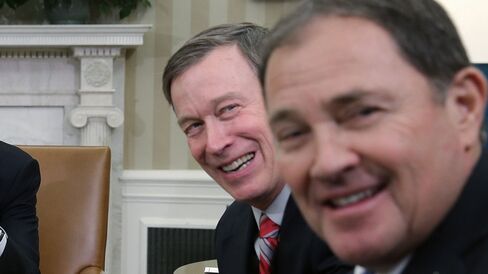 On Saturday, as the nation's governors descended on a Marriott hotel in Washington for their annual winter conclave, 2016 fever was in the air. In one hallway, Governor Scott Walker of Wisconsin held court with reporters on everything from the timing of an announcement (it needs to be by mid-year) to immigration policy (President Barack Obama overstepped his boundaries with his executive order). Elsewhere, hordes of reporters milled about, unsuccessfully, in search of New Jersey Governor Chris Christie.
The National Governors Association's yearly summit takes place less than a half-mile from the White House. At the outset of the group's meeting, Colorado Governor John Hickenlooper, the chairman of the NGA and a Democrat, spoke of the political atmosphere. "There are obviously races going on—whether it's governors running for reelection, or presidential primaries that are going to be coming around—and it is a distraction. There's no question about that," he said. "Most governors are able to keep their focus, and begin looking at things from a national perspective without losing focus."
Hickenlooper is a rare Democrat for being first elected in a 2010 Republican wave that saw the party make gains in statehouses across the U.S. He looked at Utah Governor Gary Herbert, the NGA vice chairman and a Republican, and quipped, "It's more on his side than on mine." Hickenlooper said that he's been trying to convince Herbert to seek his party's 2016 nomination. Herbert, for his part, noted that "there are always elections going on."
He joked, "I am the only governor who's not running for president."
The NGA culminates with a black-tie dinner Sunday night at the White House, followed by a meeting with Obama and a news conference on Monday.
Meanwhile, the Republican Governors Association is holding its own series of meetings, dinners, and receptions around the city. These events are closed to the media. The RGA ends with a press event at the U.S. Chamber of Commerce.
Before it's here, it's on the Bloomberg Terminal.
LEARN MORE