Swing State Poll: Hillary Clinton Bests GOP Challengers in Iowa, Colorado and Virginia
Jeb Bush is the only Republican to tie Clinton in thre three states polled.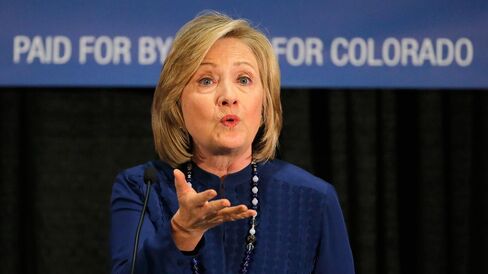 No matter how you slice it, Hillary Clinton is, so far, looking hard to beat.
A new Quinnipiac University poll of three swing states—Iowa, Colorado, and Virginia—shows Clinton leading every possible Republican presidential challenger in a hypothetical head-to-head match up with the exception of Jeb Bush.
In Colorado, Clinton tops New Jersey Governor Chris Christie by a margin of 43 to 34 percent. She beats former Florida Governor Jeb Bush by a margin of 44-36 percent, Wisconsin Governor Scott Walker by two points, 42-40 percent, former Arkansas Governor Mike Huckabee by 44-39 percent, and Kentucky Senator Rand Paul by a margin of 43-41 percent.
In Iowa, Clinton's margins are even more impressive. She beats Huckabee by 45-38 percent, Paul by 45-37, Christie by 44-34, and both Walker and Bush by a margin of 45-35.
In Virginia, Jeb Bush ties Clinton, with 42 percent of the 1,074 registered voters saying the would vote for each presumptive candidate. All the other GOP challengers, however, trail the former secretary of state. Clinton bests Paul by a margin of 42-40 percent, Huckabee by 44-41 percent, Christie by 44-39 percent, and Walker by 45-40.
Quinnipiac surveyed 1,049 Colorado voters and 1,089 Iowa voters. The poll took place by phone Feb. 5-15, and the margin of error was plus or minus 3 percentage points in each state.
Earlier this month, a Bloomberg Politics/Saint Anselm poll found Clinton beating all Republican challengers in New Hampshire.
CORRECTION: An earlier version of this story incorrectly stated Clinton's advantage against Huckabee in Colorado. He took 44 percent to his 39 percent.
Before it's here, it's on the Bloomberg Terminal.
LEARN MORE