Scott Walker's New Specialty: Punting
He may be punting, but it means he isn't getting distracted.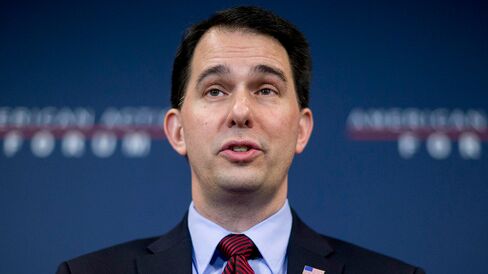 Scott Walker is punting again.
When asked whether he agreed with former New York City Mayor Rudy Giuliani, who said at a dinner the two attended on Wednesday that he doesn't believe President Obama "loves America," Walker declined again to get drawn into a tangle.
"The mayor can speak for himself," Walker said on CNBC's Squawk Box. "I'm not going to comment on what the president thinks or not. He can speak for himself."
Americans are starting to get used to evasive answers like that from the Wisconsin governor and likely 2016 presidential candidate, and it might actually signal his seriousness. Since he shot to the front of the 2016 pack in Iowa, for instance, he already delivered a famous punt on a question that resulted in controversial replies from some of his prospective rivals.
"I'm going to punt on that one," he said on Feb. 11 when asked he believed in evolution. "That's a question a politician shouldn't be involved in one way or the other."
At the time, Walker got dinged for his non-answer, but the creative "no comment" can be a big boon—and an unusual show of restraint—for state politicians testing the national stage.
Back in January, Bloomberg reporters Michael C. Bender and John McCormick declared that, unlike being an engaging public speaker, "avoiding any topics that are off-message" is one of Walker's big skills.
Asked whether he supports federal requirements to buy fuels made from corn, soybean and other products—a significant issue just over the border in Iowa—Walker took a pass. "That's something that should I be a candidate in the future, I probably would have to take a stand on that," he said, according to WisPolitics.com.

In June, Walker ducked questions about the state's ban on same-sex marriage being overturned, saying, "Voters don't talk to me about that." In 2012, he declined to comment about a bill aimed at repealing a pay-equity law and then quietly signed it into law.
Before it's here, it's on the Bloomberg Terminal.
LEARN MORE