Jeb Bush Speaks Loudly But Delivers Few Specifics
He says America should have a more robust role in global affairs, but leaves many details for another day.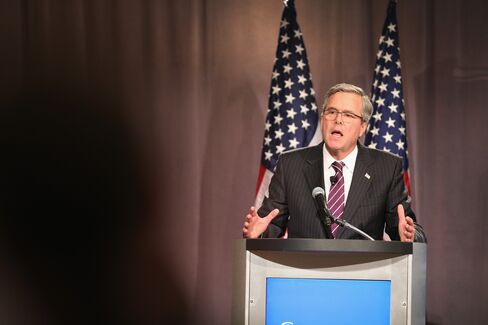 Whether on issues like how to restore major American cities or improve diplomatic relations in North Africa, Jeb Bush is selling himself as the Republican heavyweight on policy. But for a governor who has prided himself on accomplishing "big, hairy, audacious goals," his first two major speeches have been rather light on specifics.
Still, in remarks on domestic policy in Detroit earlier this month and in a foreign affairs address to the Chicago Council on Global Affairs on Wednesday, Bush impressed influential audiences of corporate executives and Republican donors.
While his delivery of both speeches was relatively flat and he had a few flubs on Wednesday (he referred to Iraq once when he meant Iran, and claimed 200,000 jihadists were fighting for Islamic State, instead of 20,000), in both cities he was engaging and charming in question-and-answers sessions that followed. That's a positive sign for the town halls awaiting his pending campaign in Iowa and New Hampshire, the first two states to hold presidential nominating contests.
During the Q-and-A sessions, Bush displayed a firm grasp on a range of topics, showing an ability to converse with knowledge and humor on a wide spectrum of issues facing the country. After giving a detailed answer about nuclear weapons in Iran, for example, he said, "The more I get into this stuff, there's some things you just go, you know, 'holy schnikes.' This is, like, serious stuff."
A Catholic who wore ashes on his forehead from a mass earlier in the day to commemorate Ash Wednesday, Bush criticized a deal brokered by Pope Francis and President Barack Obama to thaw U.S. relations with Cuba. Bush said he was "really eager" to hear Israeli Prime Minister Benjamin Netanyahu address Congress, a speech that has added to the tension between Capitol Hill and the White House. He repeated his support for NSA snooping programs, which most Americans now oppose.
What Bush hasn't done, however, is offer many specifics on how exactly he'd govern if elected president. In Detroit, he said he wanted to double the nation's economic output, without detailing how. In Chicago, he said it was "really dangerous" to have a defense budget that spends just 2.5 percent of the nation's gross domestic product, without saying what level he'd consider safe. He also coined the phrase "liberty diplomacy," saying free speech, free markets and freedom of religion should be critical principals in foreign policy, yet it wasn't apparent how that would differ from other approaches.
Even one of his main points in Chicago, that he would not be bound by the policies of his brother and father—the last two Republican presidents—wasn't exactly fleshed out.
Bush did use his most direct language yet about his family, declaring "I am my own man," and acknowledged that "mistakes were made in Iraq, for sure," when referring to the unpopular war undertaken by George W. Bush in 2003. Yet he also credited his brother with making a "heroic" decision in 2007 to send additional troops to the country, and sought to frame his family ties as beneficial. "I've been fortunate to have a father and a brother who helped shape America's foreign policy from the Oval Office," Bush said. "I love my brother, I love my dad," he added. "I actually love my mother as well. I hope that's ok."
And while Bush sought to define his own worldview, it was easy to imagine his speech being delivered by George W. Bush, or, for that matter, almost any other Republican presidential aspirant giving nearly the same speech. "We are a force for good," Bush said. "I have doubts whether this administration believes American power is such a force."
Aside from repeated criticisms of the Obama administration, Bush filled his 20-minute speech with quadrennial Republican declarations about the increasing importance American leadership in the world and evil-doers creeping ever closer to the homeland.
"If we withdraw from the defense of liberty elsewhere, the battle of eventually comes to us anyway," Bush told an audience of about 850 people at the Fairmont Chicago Hotel. "In our cities and our streets and in our skies, the enemies of freedom will never be content to live in their own dark corner of the global. They must eventually strike out at America, and they often do.
In terms of symbolic import, the speech was a tactical success. As the former governor tries to position himself as the front-runner for his party's nomination, his history on domestic issues, such as immigration and the Common Core educational standards, are anathema to many in his party's conservative base. The foreign policy speech, in contrast, won't alienate anyone.
He did so by aiming for the rhetorical middle ground, suggesting he'd anchor his foreign policy somewhere between his brother's overreaches in Iraq and what he views as a disengaged Obama administration. "Each president learns from those who came before, their principals, their adjustments," Bush said. "New circumstances require new approaches."
That message was also delivered earlier in the day when Bush's team released a list of 21 foreign policy advisers that the presumptive candidate would rely upon for advice. Bush's collection of counselors showed a diverse cast of Republican tribal chiefs representing vastly different world views, from advocates of restraint like former Secretary of State James Baker to military hawks such as John Hannah, a former national security aide to Cheney.
And Bush's speech also showed that, while he's best known for governing Florida from 1999 to 2007, his potential Republican rivals shouldn't underestimate his range on foreign policy.
Almost as much a warning to his fellow candidates as boastful show of his own experience, Bush ran through a list of résumé highlights, including opening a branch of Texas Commerce Bank in Venezuela, where he lived before entering politics; leading trade missions as Florida governor to Mexico, Brazil and Argentina; signing a trade agreement between Israel and Florida during one of his five trips to the country.
"Since leaving office as governor, I've had the chance to travel a lot more," Bush said. "In fact, I forced myself to go visit Asia four times a year to learn about the dynamic nature of the region."
As to what Bush all that experience has specifically taught him, and how it would influence his policies if he becomes the third Bush in the White House remains, for the moment, a matter of speculation.
Before it's here, it's on the Bloomberg Terminal.
LEARN MORE