Walker Declines to Address Evolution in London Appearance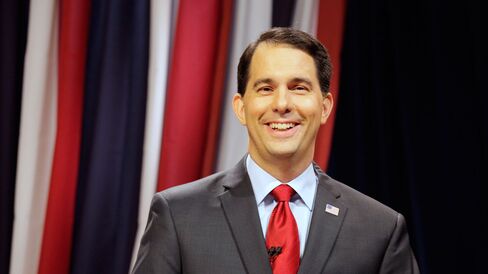 Wisconsin Governor Scott Walker declined to say whether he believes in evolution during an appearance in London aimed at boosting foreign-policy credentials ahead of a possible 2016 bid for the Republican presidential nomination.
"I'm going to punt on that one," he told his interviewer after a speech on free trade Wednesday to about 200 people at the Chatham House think tank, which focuses on international affairs.
"That's a question a politician shouldn't be involved in one way or the other," said Walker, 47. "I'm here to talk about trade, not to pontificate on other issues."
Scientists say evolution created humanity, although the exact origins of life remain a controversial debate for some, including portions of the Republican base. Last year, even Pope Francis waded into the topic, saying the Big Bang theory doesn't contradict the idea of a divine creator.
Walker, the son of a Baptist minister and himself an evangelical Christian, later clarified his views.
"Both science and my faith dictate my belief that we are created by God," he said in a statement. "I believe faith and science are compatible, and go hand in hand."
Walker's speech and question-and-answer session represented the only official public event during his four-day U.K. trade mission. The governor also refused to weigh in on foreign-policy questions, such as whether the U.S. should arm Ukrainian rebels.
"I have an opinion on that," he said. "I just don't think you talk about foreign policy when you're on foreign soil."
Christie Trip
The Democratic National Committee was quick to pounce on Walker's refusal to answer questions.
"For someone who went to London to build his street cred as a serious leader, all Walker showed today was the same ducking and dodging Wisconsinites know all too well," DNC spokesman Holly Shulman said in an e-mail. "Would've been a lot simpler to just stay home."
Walker's London visit follows one last week by New Jersey Governor Chris Christie, who saw coverage of his trip turn negative after saying parents should have choice in immunizing their children and engaging in testy exchanges with reporters. Like Walker, Christie is contemplating a White House run.
The governors are just the latest potential Republican candidates to make a U.K. visit. Louisiana Governor Bobby Jindal came in January. Former Texas Governor Rick Perry, former Arkansas Governor Mike Huckabee and Senator Marco Rubio of Florida were there last year.
'Best Cheese'
In his speech, Walker highlighted his state's robust dairy production as he made his case for free markets. He pointed to Colby cheese, made in Colby, Wisconsin, and said the state would rank fourth in the world for cheese production if it were a country.
"We believe we make it better than anyone in the world, but we do not begrudge anyone else trying to make a better cheese," Walker said. "In other words, we say let the best cheese win."
Walker said "truly free trade rewards hard work and innovation" and must remain free of excessive government intervention.
At $679 million in 2013, the U.K. is Wisconsin's sixth-largest export market, behind Canada, Mexico, China, Japan and Germany, according to data from the Wisconsin Economic Development Corp.
Walker is also scheduled to visit business leaders and government officials, while touring factories and trying to recruit companies. Walker and Prime Minister David Cameron met Tuesday evening, the governor said.
While he declined to answer foreign-policy questions, Walker let it be known that he is soaking up history during his visit. He said he's visited Margaret Thatcher's burial site and Winston Churchill's war rooms.
Before it's here, it's on the Bloomberg Terminal.
LEARN MORE