Behold the Group That Is Dogging Scott Walker's Every Move
One Wisconsin Now boasts 75,000 online supporters, and has collected more than 18,000 files on Walker that could be used to thwart a presidential run.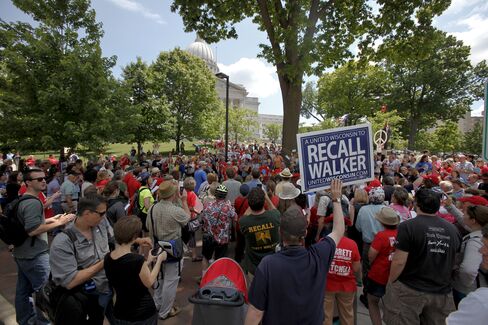 One floor above a vacant restaurant between the state capitol and the University of Wisconsin in Madison, a half dozen people work long days to do everything they can to make sure Wisconsin Governor Scott Walker is never elected president.
Their modest office is decorated with anti-Walker bumper stickers and memorabilia from when he moved to limit collective bargaining for most state workers, triggering the state's most intense chapter of recent political history.
That 2011 fight made Walker both a national hero to conservatives and a prime target for Democrats. It also galvanized One Wisconsin Now, a progressive advocacy organization that focuses on watch-dogging Walker.
"I suspect there is nobody who has more information on Scott Walker than we do," said Mike Browne, the group's deputy executive director, sitting a few feet from a bullhorn used in 2011 during a period when up to 100,000 protested at the state capitol. The group's leaders and research are routinely quoted by Wisconsin media.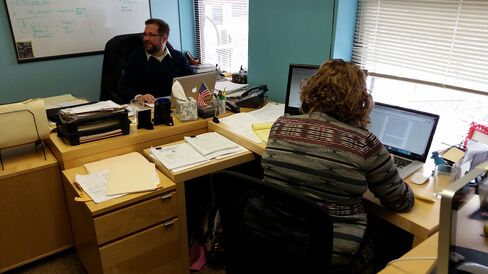 With the exception of Hillary Clinton—whose decades-long career has spawned an industry of Republican opposition research—none of the other prospective 2016 candidates face a home-state-attack group as battle-tested as Walker's.
That presents an added hurdle as he seeks to take advantage of momentum in early polling in Iowa and New Hampshire, the two states that start the nomination voting.
Laurel Patrick, a Walker spokeswoman, didn't respond to an e-mail seeking comment on One Wisconsin Now. Walker is in England this week as part of a four-day trade mission.
Walker isn't alone in getting criticism from activists in his home state. Governor Chris Christie, another potential 2016 Republican, has New Jersey-based groups that have followed his every move, including a Republican-leaning one that's been critical of his judicial appointments and another Democratic-leaning one that's been more broadly disparaging.
The national political parties are also researching, closely watching and recording the actions of the top tier of potential White House candidates, as they do every election cycle. But at this point in the campaign season, they're often heavily dependent on locals who know the prospective candidates best.
One Wisconsin Now, which was incorporated in 2006, is a non-profit group that's prohibited from telling people how to vote. Still, it isn't shy about being proudly liberal and having a point of view. "We think people nationally need to be educated about who this guy is and what he's done," Browne said.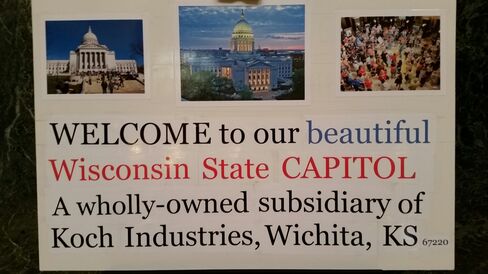 One Wisconsin Now's data files on Walker take up roughly 15 gigabytes of hard drive space, equivalent to about 1 million Microsoft Word pages. In total, the group says it has about 18,000 files on Walker, including audio and video files, issue papers, campaign finance records, open records requests and archived websites related to him.
Included in the total is virtually every document and e-mail publicly released from the so-called John Doe criminal investigation of Walker's time as the top elected official in Milwaukee County. That probe, one of two while he's been governor, resulted in six former associates or aides being convicted of charges ranging from doing political work on government time to stealing public funds. Walker has not been charged in either investigation.
Members of the group's research team, which also tracks issues like student loan debt and voting rights, have read virtually every page that's been released. Using the Wisconsin open records law, the group routinely files requests with the governor's office, including cost and other details on his travels in and outside the state. "We've watched-dogged that in the past and will continue to do that as he ups his travel schedule," Browne said.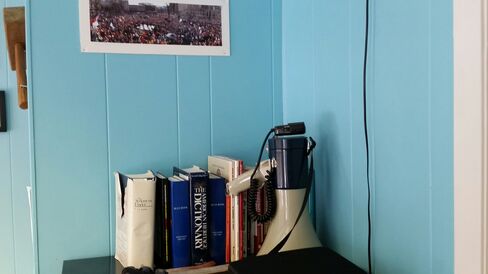 Walker and his confrontations over collective bargaining, abortion clinics and voting regulations have also provided a growth opportunity for One Wisconsin Now. The group's main organization took in significantly more revenue from donors in 2011—the year of the union fight—than it did the year before or the year after, according to IRS 990 forms filed by the group. In 2011, the group had $522,897 in revenue, before dropping back down to $327,062 in 2012, the most recent year available.
"As he has become a national figure, there definitely has been an uptick in interest in Wisconsin and our organization has benefited," Browne said, adding that the group has about 75,000 online supporters, mostly in Wisconsin.
Part of a national network called ProgressNow, the Wisconsin chapter plans to join forces with affiliates in Iowa and New Hampshire to help inform voters and reporters about Walker, should he launch a White House bid.
"Our governor is going to be traveling to those states and spending a lot of time there and we have partners on the ground there that have connections with the local media," Browne said. "If the only information you got was from what he is saying on the stump, you would think he's doing a pretty good job. We think there's more to the story."
Before it's here, it's on the Bloomberg Terminal.
LEARN MORE