Brian Williams Is Taking a Break
In the wake of the controversy over his recanted story about coming under fire in Iraq, the NBC Nightly News anchor is taking himself off the air.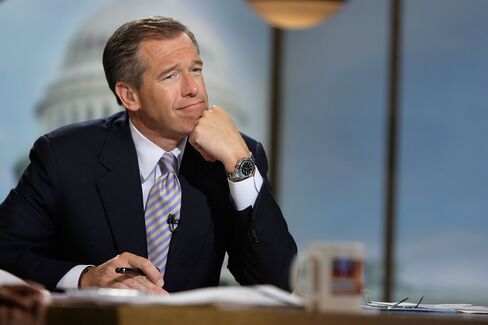 NBC Nightly News anchor Brian Williams is taking himself off his daily broadcast "for the next several days," according to a letter posted to the NBC News website Saturday afternoon.
In the "personal note," Williams says that it has become "painfully apparent" to him that he's become too much a part of the news himself. Lester Holt will take Williams's place on the air while Williams and the network deal with the controversy surrounding him. As the New York Times reported Friday, NBC News is conducting an internal fact-checking investigation into Williams's reporting on Iraq, as well as his reporting on Hurricane Katrina, which is also under scrutiny.
Williams became one of the week's biggest news stories when he was forced to admit that he was not on a helicopter that was struck by an RPG in 2003 in Iraq, despite statements he had made many times over several years. His admission came after Travis Tritten at Stars and Stripes, a D.C.-based newspaper that focuses on subjects involving the U.S. Armed Forces, broke the news that several crew members disputed his account. Williams claimed that his remarks were a "mistake," and blamed the "fog of memory," but he has come under attack even for this explanation. Some have called on him to resign.
From his note Saturday, it does not seem as though Williams plans to resign. "Upon my return," the statement reads, "I will continue my career-long effort to be worthy of the trust of those who place their trust in us."
Before it's here, it's on the Bloomberg Terminal.
LEARN MORE