Hillary Clinton Questioning Sought by House Benghazi Panel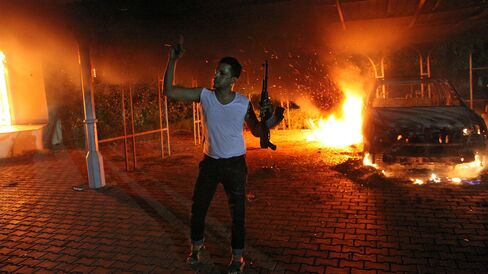 The U.S. congressional panel investigating the 2012 terrorist attack in Benghazi, Libya, said it wants to interview former Secretary of State Hillary Clinton and other Obama administration officials.
Among 20 current or former officials the committee wants to question are White House Chief of Staff Denis McDonough, National Security Adviser Susan Rice, former White House press secretary Jay Carney, Joint Chiefs of Staff Chairman Martin Dempsey, former CIA Director David Petraeus, and former Defense Secretary Leon Panetta.
The committee's chairman, Republican Representative Trey Gowdy of South Carolina, disclosed the plans in a letter Friday to the panel's top Democrat, Representative Elijah Cummings of Maryland.
Interviews of State Department personnel will begin next week and run through April, Gowdy wrote. Those will be followed by interviews with executive branch and other administration officials, the chairman said.
The panel also would like to interview former United Nations Ambassador Thomas Pickering and Admiral Mike Mullen, who led an earlier independent board that reviewed the attack.
Gowdy said his committee wants to schedule an interview "as soon as possible" with Clinton, who led the State Department at the time of the attack that killed four Americans including Ambassador Christopher Stevens. Clinton is a potential 2016 presidential candidate.
State Department
His committee is also seeking documents from the State Department, including e-mails and other materials that Gowdy said is needed to prepare for questioning of Clinton.
Clinton testified about the Sept. 11, 2012, Benghazi attacks before the Senate Foreign Relations Committee in January 2013. She is prepared to testify again before Congress, Cummings said last month, according to the Hill newspaper.
White House spokesman Eric Schultz told reporters Friday he had no comment on who would appear before the committee. He referred to some of the claims about the Benghazi attack as "conspiracy theories" and said several other investigations had given the administration a "clean bill of health" on the issue.
Cummings and the four other Democrats on the 12-member panel have complained that they have been excluded from some witness interviews.
In a statement Friday, Cummings reiterated Democratic complaints about Republican secrecy regarding the committee's focus, spending limits and timetable for finishing its work.
"The committee has not adopted an investigative plan, rules, or a budget, and it remains unclear what additional questions it seeks to answer," Cummings said.
"A majority of these witnesses have already provided information to Congress through prior interviews and testimony - - in some cases multiple times -- during seven previous congressional investigations," he said.
Before it's here, it's on the Bloomberg Terminal.
LEARN MORE