As Ukraine Crumbles, U.S. Wonders If Putin Has Asperger's
Does the Russian leader have an Autism Spectrum Disorder? It might not matter much to Ukraine.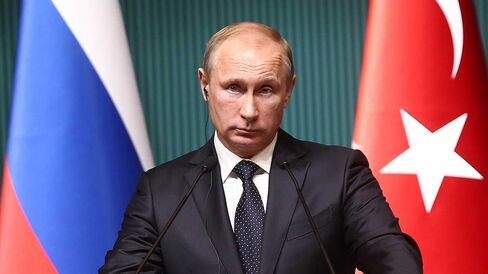 Even if the U.S. chooses not to send weapons to Ukraine in its fight against Russia, the White House could always try sending wild theories.
On Thursday, White House spokesman Josh Earnest declined to rule out whether Russian President Vladimir Putin has Asperger's syndrome, hours after reports of a Department of Defense report from 2008 put the diagnosis out there, according to USA Today.
"I'm not saying it's uncredible, necessarily," Earnest said when asked during his press briefing whether the report's conclusions, which were largely based on analysis of publicly available videos, were sound. "I'm just saying that I don't have my own personal reaction to it."
That was about all the administration had to offer on Putin for the day, even as Ukraine declines both economically and militarily in its fight against separatists backed by the Russian leader allegedly spotted on the spectrum. German Chancellor Angela Merkel and French President François Hollande are headed to Moscow to meet Putin for another round of peace talks, but Merkel is said to be highly pessimistic, and world leaders may be ready to concede more territory to Russia, which annexed Crimea from Ukraine in 2014.
"Neither France nor Germany wants to send arms to Kiev to help it defend itself, and neither wants to send money to prop up an administration that has done little to tackle endemic corruption since it came to power last year," Fortune noted on Friday in a story titled, "Is Putin on the verge of victory in Ukraine?" The magazine also pointed out that the Ukrainian economy is contracting rapidly while U.S. and European Union would have trouble escalating sanctions much.
In his confirmation hearing on Wednesday, the administration's nominee for Secretary of Defense, Ashton Carter, had raised the possibility that the U.S. may be prepared to go beyond sanctions and war of speculations.
"We need to support the Ukrainians in defending themselves," Carter told the Senate Armed Services Committee, according to the Washington Post. "I am inclined in the direction of providing them with arms, including . . . lethal arms."
But Earnest said on Thursday that "there's no decision that's been made at this point."
Since 2013, Asperger's has been considered an Autism Spectrum Disorder. Its symptoms include problems with social skills, repetitive behaviors, "unusual interests," and lack of fine motor skills, according to the Centers for Disease Control and Prevention. In the report on Putin, Brenda Connors, who specializes in "movement patterns analysis," said that his movements showed "that the Russian President carries a neurological abnormality... identified by leading neuroscientists as Asperger's Syndrome, an autistic disorder which affects all of his decisions," according to Politico.
But diagnosing ASD usually also requires developmental screenings during the first three years and tests that "may also include a hearing and vision screening, genetic testing, [and] neurological testing." In addition, Putin is often shown horseback riding and practicing martial arts, although the syndrome tends to affect only fine motor skills.
On Thursday, a spokesman for Putin rejected the claim that he has Asperger's, labeling it "stupidity not worthy of comment," according to Agence France-Presse.
Before it's here, it's on the Bloomberg Terminal.
LEARN MORE