The Latest Compassionate Conservative in the Bush Family
Jeb Bush featured Democratic-sounding rhetoric about inequality—but will policies follow?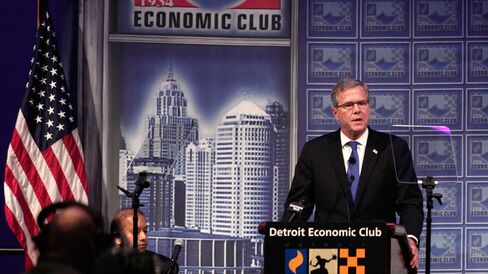 James Robertson works the 2 p.m. to 10 p.m. shift as an injection molder at Schain Mold & Engineering, a plastic-parts manufacturer in Rochester Hills, Mich., 23 miles away from his home in Detroit. Ever since his car broke down ten years ago, he's made his way to the plant by bus and by boot, walking 21 miles each day. This means about two hours of sleep each weeknight. Blake Pollock, a vice president of UBS Bank, who specializes in wealth management, saw Robertson day after day—trudging over snow banks, walking in rain—and got in touch with the Detroit Free Press. On Sunday, the paper published Robertson's story on its front page, moving a junior at Wayne State University in Detroit, a 19-year-old named Evan Leedy, to set up a GoFundMe page: "Help James Robertson Get a Car." In four days, the drive has raised over $300,000—enough for ten cars.
Robertson has spent this week shuttling between interviews on national networks. On Wednesday, in Detroit himself, former Florida governor Jeb Bush pointed to this success story as a "symbol" for the future of America. Bush, who is now the Republican presidential frontrunner, was in town to speak at the Detroit Economic Club, something of a maiden speech for his unofficial 2016 campaign. He saw Robertson's somewhat belated, indubitably media-driven triumph as a vision for post-recession, post-industrial America. Speaking after the speech with Ron Fournier of the National Journal, Bush said, "It's really a symbol of this whole idea: Can we shed a skin, basically, and renew ourselves?"
Bush used his Detroit address to sketch out how conservative policy can improve America on issues traditionally associated with Democrats, like income inequality and wage stagnation. Though he proposed little yet in the way of solutions, it was an unmistakable signal of the contours of the battle to come.
In a way, this kind of caring rhetoric is a Bush family tradition. His father, the first President George Bush, famously called for "a thousand points of light"—the charities and volunteer organizations that could replace government programs. (What happened this week to James Robertson would be one of those bright points.) And in 2000, Bush's brother George campaigned as a "compassionate conservative," a rhetorical enhancement that was quickly discarded as his presidency began. Jeb Bush is picking up the "compassionate" baton from his brother. "Tens of millions of Americans no longer see a clear path to rise above their challenges," Bush said Wednesday, a sentence that could have been uttered by President Barack Obama. He continued, "The opportunity gap is the defining issue of our time." Bush's task now is distinguishing himself from his brother with policy plans that will help the poor and fight wage stagnation, without getting into hot water with the bulk of GOP primary voters.
Currently, the inequality problem is the most glaring vulnerability to continued Democratic leadership. In his State of the Union address, President Obama said that, under his administration, "we've seen the fastest economic growth in over a decade, our deficits cut by two-thirds, a stock market that has doubled, and health care inflation at its lowest rate in fifty years." This is true, and yet it's also true that the middle class hasn't gotten a raise since the late 1990s. The economy is growing, but after the dot-com bubble burst, and the Great Recession, median household incomes are still substantially less than they were in 1999. Here is the opening for Republicans—and before he dropped out of the 2016 race last week, even Mitt Romney was attempting to drive through it.
Historically, Republican proposals to deal with the problems of the '47 percent' have been easy for Democrats to ridicule as trickle-down economics. A large question of 2016 is whether this will continue to be true. In Detroit, Bush spoke of an agenda that would promote economic expansion and shift power to states. "I intend to detail how we can get there," he said, "with a mix of smart policies and reforms to tap our resources and capacity to innovate, whether in energy, manufacturing, health care or technology." Those details haven't come yet—and it might be hard to propose them without angering the GOP's anti-government Tea Party wing.
Bush seems confident that the GOP's desire to get back in the White House will make the party's enormous right wing swallow his centrist rhetoric. But it may be a lot to swallow, even before the policies arrive. (If they do arrive.) When asked Wednesday whether Democrats and their liberal policies are responsible for Detroit's bankruptcy, Bush avoided laying blame, replying, "I don't know that that matters anymore." That kind of answer—and Bush's talk of "smarter, effective" government, rather than "no government"—may fly with the center of the party, but it might leave conservatives cold. The voters who wildly applauded Ted Cruz, Scott Walker, and Sarah Palin at the Iowa Freedom Summit, for instance, act as if they want a little more blaming and a little more blood.
Speaking with Fournier, Bush touted the "shared economy"—companies like Airbnb and Uber with entrepreneurial know-how—as well as an initiative by local parents to create an online rating for public schools, a sort of Yelp for education. All savvy, up-to-the-minute programs, none remotely transformative when it comes to inequality.
Citizen enterprise is well and good, but this cycle, the tale of James Robertson may not be politically scalable. It's a point of light, but not a program. In the past four days, 11,558 people (and counting) have contributed to Robertson, but this only after a wealth manager saw him, day in and day out, and tipped a reporter off to a good human-interest story. Jeb Bush, like everyone else, is now busy talking the inequality talk. But meanwhile, as many Americans as ever are walking the James Robertson walk.
Before it's here, it's on the Bloomberg Terminal.
LEARN MORE