Bobby Jindal Warns That Common Core Standards Will Make Kids Un-Learn 'American Exceptionalism'
Louisiana's governor leads the march against the increasingly loathed school standards.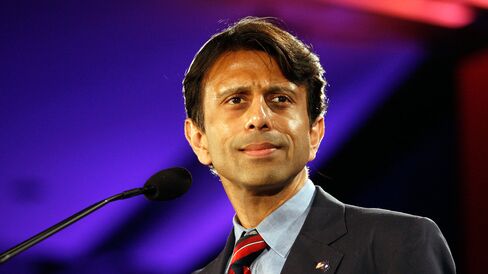 The conservative battle to undo Common Core education standards opened a new front Thursday, in a banquet room of Washington's Mayflower Hotel. The American Principles Project started its annual daylong gathering with presentations from Louisiana Governor Bobby Jindal and Ohio Treasurer Josh Mandel, a 2012 U.S. Senate candidate seen to be preparing another bid for higher office. The theme: How APP listened to activists and started winning the battle against liberal education standards.
All of the credit, argued APP leaders, belonged to mothers who'd grown horrified at needlessly complicated math problems and agenda-driven standards. "This was not an issue we thought we'd be working on," said Sean Fieler, the chairman of the APP's board. Yet the issue had been forced. Maggie Gallagher, a senior fellow at APP, talked about the coming launch of a candidate-watching blog, the Pulse, in which candidates would be scoured over their public stances on marriage, life, and common core.
As a slide of a particularly gibberish-heavy Common Core math question glowed behind him ("Fluently add and subtract within 1000 using strategies and algorithms..."), Emmett McGroarty, the executive director of APP's education arm, spoke in dark tones about how Republicans needed to own the Common Core backlash.
"If the anti-Common Core vote is split, the candidate who emerges from the primary will likely face Secretary of State Clinton, who has no Common Core baggage," said McGroarty. "By then the movement will have grown so much that he will be unelectable."
He didn't mention polling, but he could have. Since conservatives started attacking Common Core standards–which originated from state governors, not from the federal government–they've become fantastically unpopular. Even in states like New York, where statewide elected Democrats survived the 2014 red tide, polling on "Common Core" (not, importantly, on "education standards") has turned south. The term has become a kind of metonym, for bungled government control of voters' lives.
Mandel, who's Jewish, drove that home by starting his remarks with a recollection of the Holocaust. "My grandfather was young and strong," he said. "In an act of God, he survived Auschwitz." That family history was among the reasons he'd joined "moms at their kitchen tables" and opposed a "backdoor attempt at a one size fits all education policy." He shared the heroic story of Tom Brinkman, an activist who primaried an incumbent Republican legislator over Common Core (and Medicaid expansion)—a sort of warning to anyone who doubted the power of the issue.
Jindal followed Mandel. Five years earlier, he'd told Louisianans that "adopting the Common Core State Standards" would "raise expectations for every child." Since last year, he'd bailed on the standards, and joined lawsuits against them. He did not talk about his conversion so much as he talked about the obvious rightness of his current position.
"The idea that in the Common Core, we'd be allowing the federal government to be making education decisions, flies against the 10th Amendment," said Jindal. A little later, he asked how those decisions could poison minds. "What happens when we stop teaching American exceptionalism to our students? What happens when the American history they're thought is not the one you and I were taught, but a history of grievances?"
Common Core does not contain history standards–it only includes some history texts, like the founding documents, in English standards. But Common Core's current status as a things-the-feds-get-wrong catch-all phrase was clear, especially when Jindal asked Congress to junk the standards of No Child Left Behind.
"It was a mistake back then," he said. "I think its authorization is a mistake today."
Before it's here, it's on the Bloomberg Terminal.
LEARN MORE