Presidents Have Rarely Wavered in Enthusiasm for Vaccines
The message coming from the White House on vaccinations has been largely consistent: get them.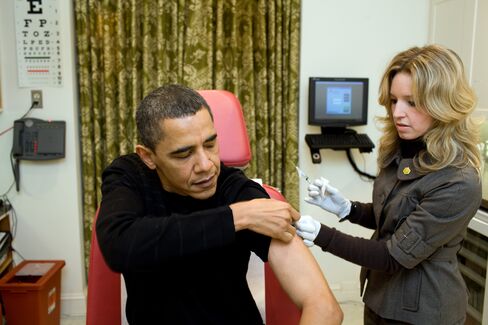 New Jersey Governor Chris Christie may be readying a run for president in 2016, but his comments Monday that "parents need to have some measure of choice" would put him out of step with the enthusiastic support for vaccination expressed by the occupants of the Oval Office's over last several decades.
President Obama also weighed on vaccinations in an interview broadcast on Monday, and was unequivocal. "You should get your kids vaccinated," he told Today as he addressed a measles outbreak that has affected 14 states. "The science is, you know, pretty indisputable. We've looked at this again and again. There is every reason to get vaccinated, but there aren't reasons to not."
A spokesman for Christie clarified that "the governor believes vaccines are an important public health protection and with a disease like measles there is no question kids should be vaccinated."
Bill Clinton even tried to make universal vaccination the law. In 1993, he pushed the Comprehensive Child Immunization Act "to provide for the immunization of all children in the United States against vaccine preventable diseases." It died in committee.
Other presidents, with few exceptions, have been more or less supportive of broad vaccination. Reagan helped indemnify vaccine manufacturers against liability and proclaimed a "National Adult Immunization Awareness Week" and lamented that "many adults needlessly become victims of diseases that vaccination prevents," but pushed little else aside from that.
Jimmy Carter has advocated improving vaccination rates around the world for many years, and his wife, Rosalynn, co-founded Every Child by Two, an organization that aims to get infants vaccinated.
Gerald Ford wanted to vaccinate everyone in the U.S. against the 1976 swine flu, according to Discover magazine.
When long-term studies of the polio vaccine were not yet available, Eisenhower did caution Americans that it might be only 60 percent effective and said states would determine how much vaccine they needed. Still, he recommended Congress allocate funds to keep them free.
Franklin Roosevelt, who was diagnosed with polio, helped found the organization that would go on to pay for the development of the vaccine against the disease, according to his presidential library.
"Perhaps in the past, people were better at taking into consideration the community value of vaccinations," said Karie Youngdahl, project director at the History of Vaccines initiative from the College of Physicians of Philadelphia. She said that when she was vaccinated in the 1960s, "we lined up together in school gymnasiums to get vaccines. You had this sense of community around it."
Youngdahl, whose husband works for Bloomberg TV, said she wishes more people got vaccinated today but noted that calling for balance between public health concerns and parents' rights was not unprecedented. "We've always let the states make these decisions about exemptions and who needs to be vaccinated," she said.
Before it's here, it's on the Bloomberg Terminal.
LEARN MORE