For Christie, Super Bowl XLVIII Is So Last Year
No getting booed in Times Square this time.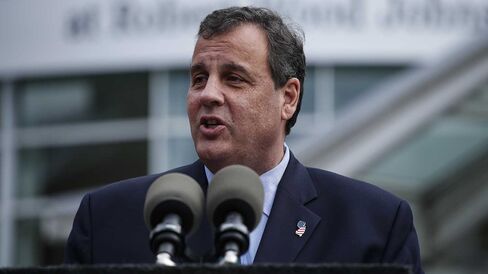 What a difference a year makes.
On Feb. 2, 2014, New Jersey Governor Chris Christie was playing co-host to the Super Bowl as the Bridgegate scandal dogged him, raising questions about his White House prospects. He tried to make the most of his duties, quipping that co-host New York had "a couple good restaurants" and adamantly noting that the Empire State was not the physical site of the game (it was played at MetLife Stadium in East Rutherford, N.J.).
https://twitter.com/nycjim/status/429969717940326400
This year, all eyes are on 2016, and the likely presidential candidate got out of Dodge to watch some football of the international variety:
https://twitter.com/GovChristie/status/561902617442660352
What about the big game back in the States (taking place in Arizona on Sunday, without his Dallas Cowboys)? Christie said he was hopeful that he would be "able to watch a little bit of the Super Bowl as well," according to the Asbury Park Press. He was scheduled to catch the game at a London bar with Rutgers students when it begins at 11:30 p.m. local time, according to NJ.com.
Would he rather be in Arizona? "If the Cowboys were at the Super Bowl then it would have been a different thing, but given the two teams that are there today, it doesn't matter to me one way or the other," he said outside Arsenal's Emirates Stadium after the London soccer club beat Aston Villa 5-0 in the English Premier League.
As our Bloomberg News colleagues report, Christie is emphasizing the state business he is doing on his U.K. trip:
Christie said he plans to press for more economic and cultural ties between New Jersey and Great Britain, its third-largest trading partner with more than $7 billion in annual business. More than 180 New Jersey-based companies have operations there, he said, including Johnson & Johnson, Merck & Co., Prudential Financial Inc. and Honeywell International Inc. England marks the fourth foreign trip of Christie's six-year administration—and the third in five months.
As for Bridgegate, federal and state investigations continue (Christie has denied any involvement), and the rocky year shows in his poll numbers. Forty-six percent of New Jersey voters approve of his job performance, according to a Quinnipiac University poll in January, down from 55 percent a year earlier.
The governor isn't letting it slow him down. On his agenda Monday: A meeting with U.K. Prime Minister David Cameron.
Benjamin Katz in London contributed to this report.
Before it's here, it's on the Bloomberg Terminal.
LEARN MORE