Obama, HuffPost Blogger, Tells Democrats to Get News Elsewhere
The president wants Democrats to be more open to international trade agreements.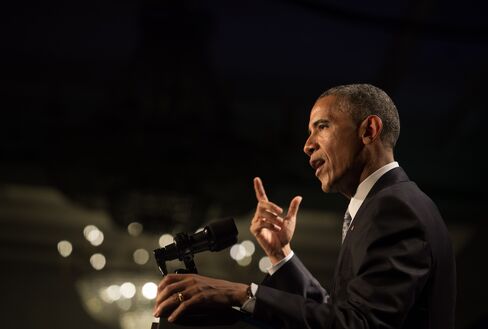 President Obama has a new piece of advice for House Democrats: don't get your news from The Huffington Post.
During his talk at the group's retreat in Philadelphia on Thursday, Obama asked members of his party to be more open-minded about trade agreements, although some Democrats believe that such deals go against the party's pro-middle-class message. "Get informed, not by reading the Huffington Post," he said, according to The Hill.
That comment might have held a little more weight if Obama hadn't published a blog post on the news site earlier the same day, touting his upcoming budget proposal. Broadly speaking, readers of The Huffington Post may be in sync with Obama when it comes to budget strategy. (Logan Dobson, a communications advisor to Republican Sen. Cory Gardner, sarcastically tweeted "President Obama boldly reaching out to new, skeptical constituencies in... The Huffington post.") But the blog has at times been critical of the president's trade proposals, especially in op-eds.
The Huffington Post is well aware of its love-hate relationship with Obama. Sam Stein, one of the site's editors, tweeted a jab the president made in 2011.
https://twitter.com/samsteinhp/status/560989033548222464/photo/1
If the president is publishing advice on websites that House Democrats, considering trade agreements, should avoid, he might consider a piece in The Washington Post. Glenn Kessler at that paper's Fact Checker blog found that claims by the Obama administration on an international trade agreement were incorrect. Administration officials said that the the Trans-Pacific Partnership would yield 650,000 jobs, but according to Kessler, the net job creation would be zero.
"Our advice remains: be wary whenever a politician claims a policy will yield bountiful jobs," he wrote.
Before it's here, it's on the Bloomberg Terminal.
LEARN MORE