Steny Hoyer: Don't Bet On Democrats Retaking House Majority
Some Democrats are feeling optimistic, but the minority whip concedes it's an uphill climb.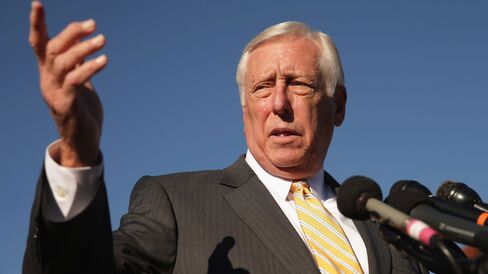 As House Democrats huddle through Friday in Philadelphia at a strategy retreat, their No. 2 leader, Steny Hoyer of Maryland, admits he wouldn't bet "a whole lot of money" on his party winning back their chamber's majority in 2016.
"I probably wouldn't do that," Hoyer told reporters. But the minority whip added a couple of caveats: "One of the things you find in today's politics is its volatility. And people are not very attached to a party."
Hoyer conceded that it's an uphill climb for Democrats to overcome the 246 to 188 seat advantage Republicans now hold. He said redistricting has complicated such swings, making most districts either mostly red or blue.
Before Hoyer spoke, rank and file members got a somewhat different message in a closed-door pep talk by the new Democratic Congressional Campaign chairman, Ben Ray Luján of New Mexico. He described Democrats as being well positioned for the 2016 election, in part because he expects a high turnout from the party's base in a presidential election year, according to a source in the room who asked not to be identified.
Among other reasons Lujan described as cause for optimism: Republicans hold 26 seats in districts that President Barack Obama carried in 2012, and many could swing back to the Democrats, he said. In 23 of those districts, Obama won with at least 48 percent of the vote.
Before it's here, it's on the Bloomberg Terminal.
LEARN MORE