Lindsey Graham 2016: Now John McCain-Approved
The dark horse has a herd.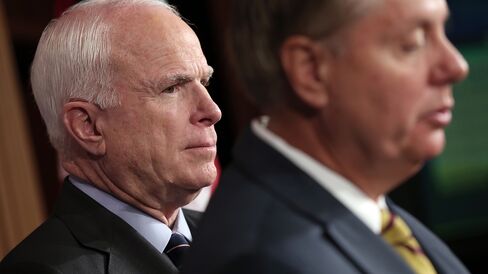 Arizona Senator John McCain looked overjoyed to see reporters blocking his path to Thursday's Republican lunch.
"I know what you're going to ask about!" said McCain. Indeed: The press wanted to talk to McCain about South Carolina Senator Lindsey Graham's launch of a presidential exploratory committee. McCain, who considered Graham as a 2008 running mate before picking Sarah Palin, had "strongly encouraged" Graham to run. He also credited his friend fully with the decision, and started warning 2016 rivals of what was coming.
"He's a dark horse—keep an eye on him!" said McCain. "In debates, he'll shred 'em. Have you see ever seen Senator Graham in a debate, on the floor of the Senate? He will do wonderful. I don't want to raise expectations, but I'm confident."
Graham's campaign was not yet official (hence, "exploratory") but McCain was ready to get behind it. "I formally endorse him," said McCain. "He has my all-out complete support. That's not just friendship. It's got to do with national security and what I believe are grave threats to this nation."
McCain talked through the ways that Graham could win an "uphill battle" against rivals with "lots of money." Graham, said McCain, had an "unmatched" record on national security when the country needed an expert in the White House. "Senator Graham is known in New Hampshire and he's best in the town hall setting," said McCain. "I've down town halls with him—I've watched him at those meetings. He'll be able to do well in New Hampshire."
After a few minutes of this, a Canadian reporter jumped in with a fresh question.
"Can I change the subject to Keystone, please?" she asked.
"No!" said McCain. He was joking, but after handling the pipeline questions he dove right back into the subject of Graham 2016. Did he, for example, think Graham was more qualified to be commander in chief than Mitt Romney, whom he'd endorsed at the start of the 2012 primaries?
"Yes, I do," said McCain, "but I'm not being in any way critical of Mitt Romney or anyone else who may be running. I just think that Lindsey Graham at this time in history is best suited to address threats to our national security."
McCain's enthusiasm seemed to outstrip that of Graham himself. After a Senate vote, the South Carolina senator checked his phone, then re-broke his news to reporters.
"SecurityThroughStrength.com—give now!" said Graham with a laugh. "I've come to believe that peace through co-existence with radical Islam is an unattainable goal, but you can have security. You can secure America by having partnerships in the region, and keep the war over there so it doesn't come here. You've gotta build up people in the region to fight back. You've also got to go after terrorists."
Graham, who said he'd decide whether to make the race by "the end of April," argued that he could run as a "problem-solver" who broadened the party's appeal. "There's a growing element in our party that would like me to speak up," said Graham. "Where is the Republican Party on problem solving? Is there a rational way forward on immigration? Do you deport 11 million people? I don't think so."
After a while, Graham was asked if he could see himself in the White House, and if he had any qualms about the fullness of the job. "We're gonna elect a human being, and all of us have faults," he said. "Being with John McCain, I know what you get yourself in for. You get yourself in for an incredible amount of personal hell. But then I think about the guys and gals serving overseas, and what they've gone through, quietly for the last 13 years. I've made the decision that, whatever inconvenience it might mean for me personally, trying to speak for them and have their back may be worth it."
Inside the Senate, Graham had plenty of public critics. They were less audible, on Thursday, than the people who were simply surprised. Iowa Senator Chuck Grassley, en route to chairing a second day of hearings on the attorney general nomination, quickly dismissed the problems immigration would give Graham in the first caucus state. Would it hurt him? "I think it would with 15 percent of the people," said Grassley.
South Carolina Senator Tim Scott, Graham's colleague, said that Graham had given him a heads up on the race weeks earlier.
"Lindsey has a sense of humor," said Scott. "Once you realize he ain't smiling, you got to take him seriously. And who else is better on foreign policy? Who else is better at attracting people to a conversation on immigration?"
But Scott did not join McCain in immediately endorsing his colleague. "I will host several of these candidates as I did in 2012," he said. "I'm gonna endorse—if and when—the right candidate."
Before it's here, it's on the Bloomberg Terminal.
LEARN MORE