David Plouffe at Uber: Change We Can Believe In?
He helped make a man whose middle name is "Hussein" the U.S. president. But Uber-as-social-good may be a tougher sell.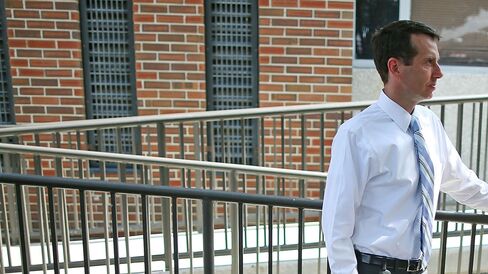 On Tuesday, Uber released the results of a study it undertook in conjunction with Mothers Against Drunk Driving, an organization whose name is about as targeted and head-nod-producing as the most sharable BuzzFeed content. The study found, surprise surprise, that Uber helps: it profoundly decreases the number of drunk-driving accidents. Four out of five of those who responded to the survey, which polled 807 adults in 19 cities, said that friends were less likely to drive themselves home after a night of drinking because of ride-sharing apps. David Plouffe, Uber's senior vice president for policy and strategy, alerted customers in an email that "ridesharing helps make cities safe." Since UberX launched in California, he wrote, "drunk-driving crashes decreased by 60 per month for drivers under 30. That's 1,800 crashes likely prevented over the past 2 ½ years." Plouffe was asked, according to USA Today, whether this "represents an explicitly altruistic new strategy for the company." Is that the strategy, is the altruism explicit? These are exactly the kind of questions Plouffe loves to answer.
Plouffe, of course, is the former campaign manager who helped President Barack Obama dominate the ground game in 2008, with grassroots organizing and social-media engagement, from sea to shining sea. Uber brought him on last August.
The press release announcing the hire leaned on classic, chicken-in-every-pot rhetoric: "Uber's simple mission," it said, is "transportation as reliable as running water, everywhere, for everyone." Powerful politicians, presidential advisors, and CEOs alike praised the "natural match" (Deval Patrick), the "perfect marriage" (Jim Messina). Eric Schmidt, the executive chairman of Google, called this "a game changer for Uber." Colorado Governor John Hickenlooper praised Plouffe's "progressive approach."
Plouffe himself wrote with excitement:
As Uber succeeds like I believe it can, it will spur the creation of hundreds of thousands of small businesses and directly create millions of jobs; deliver rapid, easy and affordable transportation alternatives to workers, parents, businesses and people out having a good time; make our roads safer, drastically cutting down on drunk and distracted driving; and give those who choose not to purchase an automobile a more viable way to live their lives day to day.
Last month, after a round of funding boosted by Goldman Sachs, the company was valued at $41 billion: unstoppable. And yet on many fronts besides raking it in, Uber has stumbled, with reports of tip-stealing, competitor-harming, and preposterous price gouging. (Uber implemented its so-called surge-pricing policy during the recent hostage situation in Sydney, for one. And over a blizzard last winter, Jessica Seinfeld, Mrs. Jerry, hired Uber to get her young children to their social destinations: one to a sleepover, and one to a bar mitzvah. The bill came to $415, and Seinfeld posted a photo of the receipt on Instagram, tapping out "#OMG#neverforget #neveragain #real.") There are also serious accusations of violent accidents and sexual assault by drivers.
But there are signs of incipient Plouffe-ism, green shoots of a savvier political sense. Uber has delivered kittens, food, and flu shots to customers. On Wednesday, it actually dispatched puppies-on-demand to office workers in 10 American cities. Other efforts have been subtler. In November, after another company SVP spoke of "digging up dirt" on critical journalists—especially women—Uber's CEO, Travis Kalanick, actually apologized. And this week in New York, as the city was preparing for the Snowmageddon that didn't come, an Uber representative told Bloomberg that "dynamic pricing will be capped and all Uber proceeds will be donated to the American Red Cross to support relief efforts."
Of course, the hope and change that Plouffe's new charge is promising may be partly illusory—taxicabs have been ferrying drunken people home for years, in a more responsibly regulated industry.
Not to mention, the cap in pricing is mandated by law. Last July, Eric Schneiderman, the New York state attorney general, helped persuade Uber to curtail its use of surge pricing during emergency situations nationwide. On Monday, Mayor Bill de Blasio reminded reporters, "Price gouging in the context of emergency is illegal."
Before it's here, it's on the Bloomberg Terminal.
LEARN MORE