The Right Isn't Buying Boehner's Latest Obama Lawsuit Plan
A familiar song for frustrated conservatives.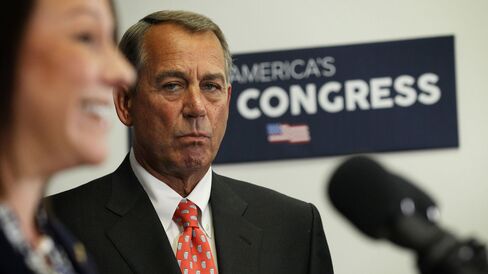 Tuesday morning's meeting of the House Republican conference featured some news, which Daniel Newhauser located first. As the majority continued to fight over the best possible border bills, and consider ways to legislatively end President Barack Obama's executive orders, the speaker would sue. "We are finalizing a plan to authorize litigation on this issue—one we believe gives us the best chance of success," said Boehner, according to Newhauser's source.
Once the lawsuit's ready, it'll make fools of plenty of journalists. In July 2014, when Boehner announced a lawsuit challenging the administration's delay of the Affordable Care Act's individual mandate, these pundits figured he was going easy on the immigration orders. Suing over deferred action for young immigrants, wrote Brian Beutler, "would doom the party's already floundering efforts to rehabilitate its standing in immigrant communities." Boehner, wrote Francis Wilkinson, was "shrinking from a confrontation likely to further alienate Hispanics from the Republican Party." In National Review, Andrew McCarthy spoke for many conservatives when he called the DACA punt a "political stunt."
Now, Boehner is reversing himself. The simplest way to read this is as a work of base management. Boehner made his remarks at a meeting that was ostensibly about the actual immigration and Homeland Security measures that were supposed to pass this week. The border bill was pulled; it would likely be merged with an immigration bill. Conservatives told Bloomberg's Billy House that they felt jammed.
"It is a mirage," Alabama Representative Mo Brooks told reporters of the leadership's plan. "It purports to be border security. It does affect the border, but provides no security."
The lawsuit promise could mollify some of the rebellious conservatives. The problem is that more moderate Republicans sound fine with it; that makes the plan sound like a chimera. Alabama Senator Jeff Sessions, a Judiciary Committee member who leads the expanded group of border hawks, had opposed the House's border bill on the grounds that "the power to stop this action by denying funds for its implementation."
"I didn't used to sign on lawsuits," said Sessions. "One time, I was the last one to sign on. Lawsuits, lawsuits—well, Congress has powers. Sometimes, when you're in the minority and you don't have some abilities, you're put in a position where have to [file lawsuits]. Generally, I think Congress should use its coequal branch powers." And that meant using pulling every lever in the funding process to dismantle DACA and last year's expanded immigration order. Not just cheering on a lawsuit. Meanwhile, Boehner was being pulled to the right.
Before it's here, it's on the Bloomberg Terminal.
LEARN MORE