Exclusive: Rubio Says 2016 Decision Coming By Spring
During a triumphant weekend, the Florida Republican shows why he should be taken seriously as a presidential contender.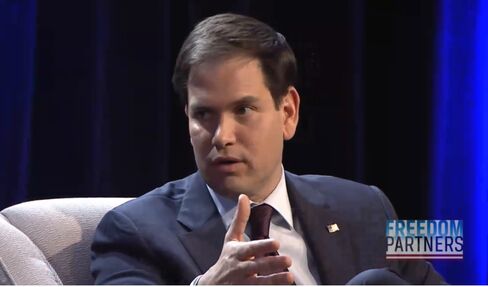 While hundreds of his supporters milled around a ritzy art deco hotel in Miami Beach on Saturday, U.S. Senator Marco Rubio lunched with his closest allies in a small conference room where he provided a detailed glimpse at how he'd approach the earliest stages of a presidential campaign. A day later, Rubio gave a commanding performance in California beside two potential rivals for the White House that showcased his ability to stand out in what may be a very crowded Republican field.
It made for a very good weekend for Florida's junior senator, who is pushing ahead with plans for a White House run despite conventional political wisdom that has twice written him off. And Rubio's backers are sounding increasingly optimistic about the future.
"There's a lot of positive momentum right now," said Scott Weaver, the co-chairman of Rubio's steering committee in Washington. "Whether they're in Florida, or in Palm Springs, or in Arkansas, people are really interested in his vision for the country."
That vision also includes what his potential presidential campaign would look like, and Rubio told about 30 core supporters that he would decide by the spring about whether to run for president, according to two Republicans who attended Saturday's meeting and agreed to speak about it on the condition of anonymity.
If Rubio opts to run for president instead of seeking a second term in the Senate, he said he'll aim to run a nimble, efficient operation in states with early presidential nominating contests. By way of example, he cited the relatively low-budget operations run by the last two Republicans to win Iowa's first-in-the-nation presidential nominating contest (Rick Santorum and Mike Huckabee) and John McCain's successful, small-staff effort in New Hampshire in 2008.
Rubio spokesman Alex Conant declined to comment on the private meetings.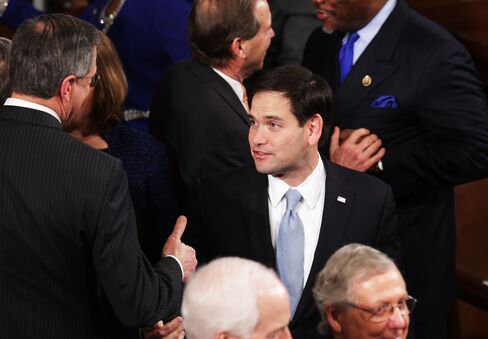 Despite the uptick of optimism for Rubio's chances at running a successful campaign, however, there remains plenty of skepticism about his path to the White House.
His authorship of a controversial immigration bill hurt him among the party's conservative base, including Republicans in his own state. Rubio has since softened his position on the issue, and worked to elect new Republicans from Iowa, Arkansas, and Colorado to the Senate who opposed his bill. It seemed, for a moment, like Rubio had turned the page on the controversy and would be Florida's sole candidate, but then Jeb Bush stepped in the spotlight. The Republican establishment in the state quickly declared their allegiances to the former governor, raising questions about Rubio's ability to raise money in his own backyard and leading to conjecture that he would instead run for governor in 2018.
Also tempering enthusiasm is that Rubio's recent moves—from the gathering of donors and bundlers to a string of fundraisers this month in California, Texas, and Chicago—overlap with a promotional tour for his second book, American Dreams: Restoring Economic Opportunity for Everyone. Speculation about a presidential campaign, it turns out, can be very good for book sales.
Writing books can help clarify one's message, and to boosters like former Florida Republican Party Chairman Al Cardenas, Rubio "did a great job setting forth his vision for America" during a 45-minute speech to the larger crowd of donors last Saturday. "I am certain he has not made a decision," Cardenas said about whether Rubio may run for president. "I am also certain that his staff really wants him to jump in."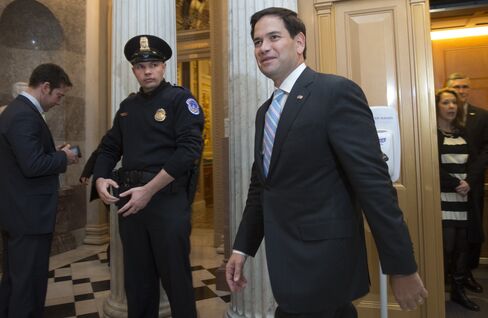 Wayne Berman, a longtime Republican presidential money-raiser who is included among Rubio's core financial supporters, said political watchers would soon see that Rubio can deliver a positive message about the party, thanks in part to a family that embodies America's aspirational culture.
Though he declined to discuss specifics of the private meetings in Miami, Berman conceded that a Rubio presidential operation would be outspent by others, but also wouldn't be an "insurgent" style campaign with a few staffers armed with iPhones.
For Berman, one of Rubio's greatest strengths is that he is very good with donor outreach and would be able to raise enough money to finance a campaign. "When you're talking to him you're really having a conversation," Berman said. "He's capable of a deeper-dive dialogue."
In Palm Springs, Calif., on Sunday, Rubio arguably gave the most impressive performance during a forum that included fellow Senators Ted Cruz of Texas and Rand Paul of Kentucky. The event was held in front of about 450 donors and political operatives, many of whom have ties to the political network led by Charles and David Koch, two of the Republican Party's most important donors and the fifth and sixth wealthiest people in the world. The network has set a fundraising goal of $889 million for 2016, more than double what it spent in 2012.
The 80-minute forum focused largely on economic issues and foreign policy, two areas that Rubio has thrown himself into since winning his Senate election in 2010. Rubio was the only potential contender on stage to wear a suit and tie, with Cruz and Paul both opting for open collars and cowboy boots.
Rubio, like Cruz and Paul, declined to directly answer questions about why voters should trust Republicans with the economy. But he gave thoughtful, detailed responses about his support for increasing the retirement age for Social Security, his plan to modify the earned income tax credit so that more benefits go to the single and childless poor, and why he opposes renewing diplomatic relations with Cuba.
"One school of thought is that if we open up economically to Cuba and overwhelm them with free enterprise that that will change the regime," Rubio said. "There isn't a single contemporary example of that happening."
Rubio exhibited the conversational style and the quick wit he uses both to charm potential donors and sell books. He made several references to his humble upbringing, which can help set him apart from other potential candidates, such as Bush.
"When my parents came here in 1956 they both had the equivalent of a fifth or sixth grade education and they made it to the middle class as a bartender and a maid," Rubio said. "It's very difficult to do that in the 21st century. There are jobs out there that will allow you to get there, but you have to skills and you have to have a system that allows people to access that."
The senator poked fun at himself right out of the gate. As the three panelists were settling into their white chairs, on a stage with a blue curtain as a backdrop, he joked that his mic wasn't working and said, "Next thing you know I'll need water." It was a reference to his awkward pause to gulp a bottle of water during his nationally televised live State of the Union rebuttal in 2013.
Later, he humorously deflected a question about whether the 2016 Republican presidential nominee would be a governor—an argument that has been used by potential candidates such as Wisconsin Governor Scott Walker and former Texas Governor Rick Perry. "Well, if I was a governor I'd say the same thing," Rubio said.
The performance was a reminder why Rubio should be taken seriously.
"People make an enormous mistake if they underestimate the potential of an elected official as enormously talented as Marco Rubio," said Whit Ayres, Rubio's Washington-based pollster. "He is an incredible political talent and talent will rise in the long run in this, and any other profession."
Before it's here, it's on the Bloomberg Terminal.
LEARN MORE