House Border-Security Plan Delayed Amid Republican Discord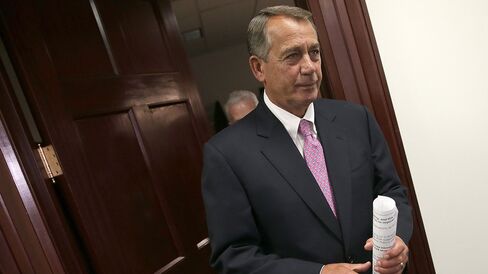 A U.S. House vote on border-security legislation is being postponed indefinitely as Speaker John Boehner and other Republican leaders try to quell opposition from some hard-line party members.
"We're going to have to walk through all of this with our members," Boehner of Ohio said during a news conference Tuesday. Though aides had blamed a decision to delay Wednesday's scheduled vote on this week's winter storm, Boehner confirmed the internal party discord over the bill.
Boehner also told party members during a closed-door meeting that House Republican leaders are preparing to sue President Barack Obama over his executive action on immigration, said a person in the room who sought anonymity to describe the private session. Obama in November eased deportation for millions of undocumented immigrants.
The delay on the border bill, H.R. 399, marks the second time this month that House Republican leaders have had to cancel a planned vote. Last week, they pulled back legislation that would ban abortions after 20 weeks of pregnancy because of objections that an exception for rape victims was too narrow.
The $10 billion border legislation, sponsored by Homeland Security Chairman Michael McCaul, a Texas Republican, was intended to be a first step in House Republicans' plans to address U.S. immigration laws.
Homeland Security
Congress also must agree on a plan to finance the Department of Homeland Security after it expires at the end of February. The House passed a $39.7 billion plan Jan. 14 that seeks to block Obama's immigration orders.
The border security bill would require Homeland Security to achieve operational control of heavily trafficked border areas within two years and control of the entire Southwest border within five years.
It would let border-patrol agents gain entry to restricted federal lands, and would authorize a new fleet of drones, enhanced coastal radar and biometric tracking systems, as well as tunnel detectors and 400 miles of roads.
House Republicans expressed concerns about the border-security bill during Tuesday's private meeting. Many of the complaints are similar to those raised by Senator Jeff Sessions, an Alabama Republican and chairman of the Senate Judiciary subcommittee on immigration, who said the House bill doesn't go far enough.
More Improvements
Representative Steve King of Iowa and others said they agreed with Sessions that the bill should include more security improvements inside the U.S., in addition to those at the borders.
Sessions and others have said the bill doesn't require worksite enforcement or mandatory detention and return of undocumented immigrants. It also doesn't cut off access to federal welfare payments or require completion of the border fence, they contend.
Leaving the meeting, several members said they and their colleagues weren't ready to vote on the bill.
"We felt kinda jammed. And we asked, 'Are we ready to do this?'" said Representative Trent Franks of Arizona.
Representative Matt Salmon, also of Arizona, said, "I personally don't believe it had the votes."
McCaul has defended his bill as a tough one while saying it goes as far as his committee's jurisdiction allows. McCaul has said his bill wasn't intended to be comprehensive and that House Judiciary Chairman Bob Goodlatte will address interior security matters in upcoming hearings and legislation.
'Trust Me'
Several members said that leaves them having to vote on early bills without knowing what future legislation would do. Lawmakers are being told, "Trust me, we will do it later," Salmon contended.
Salmon and others said they were concerned that Republican leaders were trying to satisfy some members while expecting the Senate to water down the House bill financing the Homeland Security Department through September. The Senate may adopt a less contentious approach, which would require House Republican leaders to decide whether to go along with it.
Salmon said he and other members aren't interested in the border-security bill being used as a "bargaining chit" to persuade them to go along with the Senate's Homeland Security measure.
Boehner, during his news conference, said "there is no reason for me to speculate" on what the House will do in that case. He acknowledged that the border security and abortion measures represented a few stumbles for House Republicans at the start of the session.
"We wanted to get off to a fast start this year" to "show the American people that we care about their priorities," Boehner said.
Before it's here, it's on the Bloomberg Terminal.
LEARN MORE