A Brief History of Rand Paul Clarifications
A list of comments the Kentucky senator quickly walked back.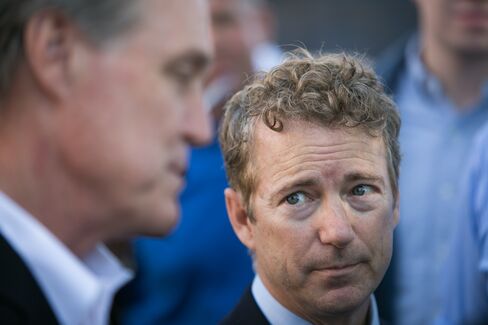 Senator Rand Paul is back in the news again with another "clarification" of another poorly-received comment, this time over a dismissive remark made about disability insurance and whether over half of its recipients are either "anxious or their back hurts."
Much has been written about Paul's policy flip-flops—on aid to Israel, on whether he would have voted for the Civil Rights Act, and other issues—but while those issues were controversies over what the Kentucky senator said over the course of several years, he's also dealt with more immediate pushback over his own statements that required a clarification within days, or hours, like the disability comment.
"The vast majority of politicians are extremely careful about every public word they utter," The Washington Post's Aaron Blake wrote last September, after Paul clarified a promise to repeal every executive order. "Paul is considerably less so." Below are some of Paul's least careful moments.
Disability insurance and back pain
What he said: On Jan. 14, while speaking at the New Hampshire Legislative Leaders Breakfast, Paul said that while there are people who are legitimately disabled, "[o]ver half of the people on disability are either anxious or their back hurts — join the club."
Who doesn't get a little anxious for work and their back hurts? Everybody over 40 has a back pain. And I am not saying that there are not legitimately people who are disabled. But the people who are the malingerers are the ones taking the money away from the people who are paraplegic, quadriplegic.
The clarification: This did not go down well especially since the disability insurance trust fund is set to run out money in 2016 and the GOP's interest in reforming the system is viewed on the left as a ploy to revamp all of Social Security. After saying in a statement to Politico that "we absolutely should take care of those truly in need of help," his spokesman sent a second follow-up to The Washington Post.
Paul spokesman Brian Darling pointed to two data points — 27.7 percent of disabled beneficiaries are diagnosed as having ailments related to "Musculoskeletal system and connective tissue" and that 14 percent have "mood disorders." That adds up to 42 percent, he noted.
As PolitiFact noted, he's still wrong. The "musculoskeletal system and connective tissue" category includes broken bones, burns and amputated limbs, and the "mood disorders" category includes major depression and bipolar disorder.
https://www.youtube.com/watch?v=IOzKwe4vGu0
Every executive order ever
What he said: During a speech with members of Generation Opportunity in New Hampshire in September 2014, Paul was asked if he would repeal any executive orders if elected president. According to The Hill, he replied:
"I think the first executive order that I would issue would be to repeal all previous executive orders [...] Democracy is messy, but you have to build consensus to pass things. But it's also in some ways good, because a lot of laws take away your freedom. So it should be hard to pass a law."
The clarification: "Senator Paul's statement was meant to emphasize this president's overt and unconstitutional executive orders, it was not meant to be taken literally," Doug Stafford, a Paul spokesman, told The Huffington Post. In August 2014, when WFPL asked him if he'd ever issue an executive order, he said he would—but "only to undo executive orders." Of course, by that logic, his executive order undoing all executive orders would itself be null and void.
Voting rights and offending people
What he said: After a May 2014 meeting with black pastors in Memphis, Tenn., Paul told The New York Times:
"Everybody's gone completely crazy on this voter ID thing," Mr. Paul said in an interview. "I think it's wrong for Republicans to go too crazy on this issue because it's offending people."
The clarification: Paul's comment went through two revisions. As Jonathan Chait at The Daily Intelligencer wrote, Stafford released a statement saying that Paul "reiterated a point he has made before that while there may be some instances of voter fraud, it should not be a defining issue of the Republican Party, as it is an issue that is perhaps perceived in a way it is not intended," and that he saw voting rights as a state issue.
That same week he told Fox News' Sean Hannity that he didn't see, personally, why showing an ID a drivers license was a big deal. "I show my drivers license every time I vote in Kentucky…and I don't feel like it is a great burden," he said. "So it's funny that it got reported that way."
Iran sanctions
What he said: During an April 2014 interview with ABC's This Week, Paul said that he thought "all options should be on the table to prevent [Iran] from having nuclear weapons," but argued that containment should also be an option. From ABC News:
"They said containment will never ever, ever be our policy," Paul said of those who oppose Iran getting nuclear weapons at any cost. "We woke up one day and Pakistan had nuclear weapons. If that would have been our policy toward Pakistan, we would be at war with Pakistan. We woke up one day and China had nuclear weapons. We woke up one day and Russia had them."

"The people who say 'by golly, we will never stand for that,' they are voting for war."
Paul said that announcing to Iran that the U.S. is open to containment is a "dumb" idea, but going to war is also a dumb idea.
The clarification: "I am not for containment in Iran. Let me repeat that, since no one seems to be listening closely: I am unequivocally not for containing Iran," Paul wrote in a Washington Post op-ed two days after the ABC interview. "I am also not for announcing that the United States should never contain Iran."
Paul's argument is that the U.S. government shouldn't say it will never agree to contain Iran—which might lead to war—but for right now he's definitely against containment. Being open to changing his mind about containing Iran in the future doesn't mean he's not for containment now, but that "foreign policy is complicated and doesn't fit neatly within a bumper sticker, headline or tweet."
Unwed mothers
What he said: During an event in his home state on Jan. 24, 2014, Paul discussed the idea that the government needs to find a way to teach children not to have kids until they're married. From the Lexington Herald-Ledger:
"You know, but we have to teach our kids that. But some of that's sort of some tough love too. Maybe we have to say 'enough's enough, you shouldn't be having kids after a certain amount.' I don't know how you do all that because then it's tough to tell a woman with four kids that she's got a fifth kid we're not going to give her any more money. But we have to figure out how to get that message through because that is part of the answer. Some of that's not coming from government. It needs to come from ministers and people in the community and parents and grandparents to convince our kids to do something different."
The clarification: Two days later Paul appeared on CNN's State of the Union to clarify that he wasn't offering a policy solution, but merely stating that kids need to know that women who have children out of wedlock are more likely to live in poverty. "Government can't do anything about this," Paul told CNN, "but we need to be telling our kids that poverty is linked to having children before you're married."
Domestic drones
What he said: In March 2013 Paul filibustered the nomination of CIA Director John Brennan to get clarification on the Obama administration's domestic drone policy. Specifically, he worried about the use of drones on U.S. soil against Americans suspected of terrorism, and during the filibuster said "no American should be killed by a drone on American soil without first being charged with a crime, without first being found to be guilty by a court."
But during an interview on Fox News' Neil Cavuto on April 22, 2013, after authorities used drones to locate one of the alleged Boston Marathon bombers, Paul said he'd never objected to technology being used on American soil to address an imminent threat.
https://www.youtube.com/watch?v=JibKfETwNmU
"I've never argued against any technology being used when you have an imminent threat, an active crime going on," Paul said. "If someone comes out of a liquor store with a weapon and fifty dollars in cash. I don't care if a drone kills him or a policeman kills him."
The clarification: As Foreign Policy noted at the time, Paul had addressed his "imminent threat" exception before, but some libertarians—and Ron Paul supporters—thought the bar for a U.S. drone strike should be higher than a liquor store robbery.
Paul issued this statement in response to "erroneous reports" that his position on drones had changed.
"My comments last night left the mistaken impression that my position on drones had changed.

"Let me be clear: it has not. Armed drones should not be used in normal crime situations. They may only be considered in extraordinary, lethal situations where there is an ongoing, imminent threat. I described that scenario previously during my Senate filibuster.

"Additionally, surveillance drones should only be used with warrants and specific targets.

"Fighting terrorism and capturing terrorists must be done while preserving our constitutional protections. This was demonstrated last week in Boston. As we all seek to prevent future tragedies, we must continue to bear this in mind."
Pro-life and abortion exceptions
What he said: On March 19, 2013 Paul went to CNN's The Situation Room to discuss his "The Life at Conception Act," a fetal personhood bill that would have outlawed abortion. However, during the interview he said there were "thousands of exceptions" to the bill, and people shouldn't be labelled as someone who doesn't believe in a woman discussing her choice with her doctor.
I think it's important that we not be flippant one way or the other and pigeon hole and say, oh, this person doesn't believe in any sort of discussion between family. And so, I don't know if there's a simple way to put me in a category on any of that.
And later:
I would say that each individual case would have to be addressed and even if there were eventually a change in the law let's say people came more to my way of thinking there would still be a lot of complicated things the law may not ultimately be able to address in the early stages of pregnancy that would have to be part of what occurs between the physician and the woman and the family.
https://www.youtube.com/watch?v=q8Q4HJ3fNyQ
The clarification: Later that week Stafford told Life Site News, an anti-abortion site, that Paul "was speaking medically," and the "thousands of exceptions" referred to cases like ectopic pregnancies. He also reiterated that Paul is "pro-life."
Before it's here, it's on the Bloomberg Terminal.
LEARN MORE